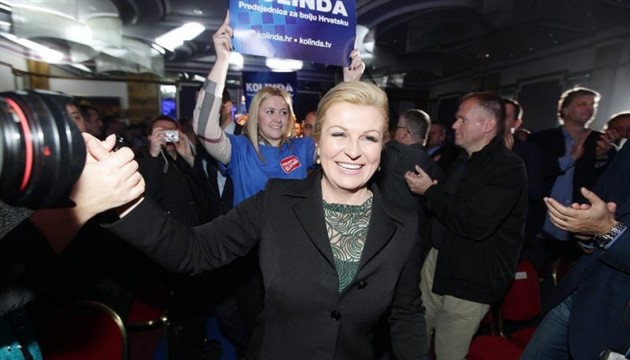 By Marija Avramovic – Zagreb
Presidential candidate of Croatian democratic union (HDZ) Kolinda Grabar Kitarovic, before many party members, coalition partners and guests presented today her electoral program 'For a better Croatia', with which she is planning to win the five-year term.
"The reason for my candidacy is the difficult social and economic situation. Although the crisis hit the whole world, in Croatia it is worse because it has an incompetent government and a president who has done nothing in the past five years", she said at the beginning of her address.
She pointed out that there has been a lot of pessimism and resignation, and that the country needed a new Croatian unity.
"I will be the president of all Croatian citizens and a force for change and much needed reforms. I will consistently apply all constitutionally defined powers of the President of the Republic, which do not need to be extended", Grabar Kitarovic noted.
"We do not need a new foundation, a new Constitution nor a Second Republic, our foundations are solid and grounded in the Homeland war and the country that we have created with Franjo Tudjman. Ivo Josipovic's initiative for the new constitution is nothing but a new deception and empty talk", she continued her speech in a sharp ton.
She strongly objected to the monetisation of highways, adding that she would especially encourage entrepreneurship.
"When I'm president, EU funds will be used and we will not lose money", HDZ's presidential candidate said.
The second point of her program is called "stability for a dignified life" and the HDZ candidate explained that she would establish the Council for social stability and how she wanted to protect maternity, children and young people as well as people with special needs.
Grabar Kitarovic said that preparation and revision of the security documents were necessary, in relation to the third point of her program concerning state security.
Before the presentation of the program the Croatian national anthem was played, while the veterans of the Homeland War paid a tribute, as well as the first Croatian president, Franjo Tudjman.