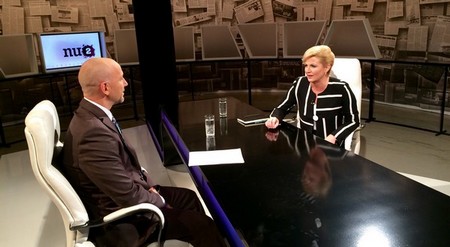 By Marija Avramovic – Zagreb
Appearing on the first episode of this season's show 'Sunday at 2 ', presidential candidate of the Croatian democratic union (HDZ) Kolinda Grabar-Kitarovic said she felt desire to help Croatia to become 'better, more prosperous and fairer' adding that she considered herself strong enough for that, but during the show, she did not provide any concrete proposals as to explain as to how she thinks she will achieve this.
She said that her candidacy is an expression of 'synergy with the party', and announced that, if she became president, Pantovcak would be converted into a center for children with special needs, and that was all of the "actual measures" she had to offer.
In an hour-long television show at Croatia radio and television, Grabar Kitarovic did not answer the specific questions on economic reform, the reduction of the state apparatus and reducing the number of municipalities.
She avoided to present to the public her views on life partnership, the Cyrillic script in Vukovar, and on the question is she supported the notion of early parliamentary elections, her answer was a smile.
Public administration should be rationalized, Grabar Kitarovic said, and named the office of the president as an example – in which the expenditure and number of employees must be reduced. Regarding the budget of the Presidential Office, which currently stands at 43 million kuna, she would cut down by reducing the number of advisors in foreign policy, and she would increase the segment of the budget for public relations in the office.
She noted that she will not give her signature on the referendum conducted by the initiative  "On behalf of the family".
When asked to comment on the statement made by Zeljka Markic from "On behalf of the family" that they do not get support from the HDZ, but they do from its voters, Grabar Kitarovic again avoided answering.
She was not even clear on the issue of abortion, saying that it is a complicated issue, which requires the the opinions of many experts in order to reach a decission.
On the question of legalizing marijuana, she replied that she was not certain, adding that there are dangers because one drug could lead to another.
She also pointed out that she has never even tried marijuana.