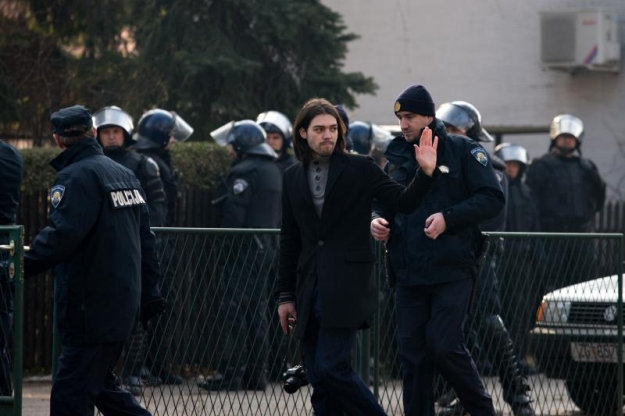 Zagreb, January 8, 2015/ Independent Balkan News Agency
By Marija Avramovic
"Human wall", a party which fights against evictions caused by inability of people to pay loans to the banks, failed to prevent another eviction this morning, with 40 of their members being arrested, among them the presidential candidate from the first round Ivan Vilibor Sincic.
A little after 10pm the riot police unit broke through the door of the house of Bozic's family in Zagreb's quart Trnje, where there were also members of the Human wall, so the police had them carried out of the house, one by one.
Police arrested Sincic, who crossed a police tag with the intent to photograph the eviction.
Bozic, a veteran of the Homeland war and a former member of the Croatian Democratic Union (HDZ), was taken with an ambulance to the hospital.
"We invite all the media to come and ask the president how has he suppressed the evictions and why 5000 members of the HDZ gathered yesterday at the large meeting, while they're turning their back on their  party colleague. Is that their solidarity?", Human wall posted on their Facebook page.
Human wall urged the presidential candidates Ivo Josipovic and Kolinda Grabar-Kitarovic to come and  attempt to prevent this morning's eviction, but they did not respond.