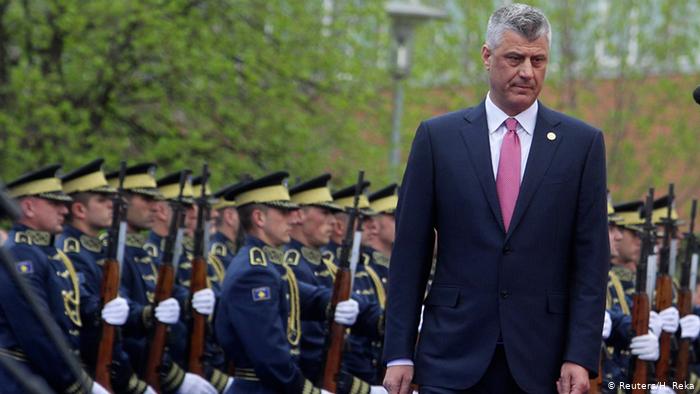 Kosovo's President Hashim Thaci visited Recak on Tuesday, to mark the International Day of Human Rights, remembering the 45 Albanian civilians who were killed by Serbian police and military forces in January 1999.
In a statement posted in his Twitter account, president Thaci has reacted to a statement issued by the US Embassy in Pristina, which refers as "events" all the massacres which took place in Kosovo in 1999.
"On international day commemorating genocide, my message from Reçak to bureaucrats of relativization was clear: Reçak was a massacre not an 'event'. Kosovo and Bosnia endured genocide, not a 'civil conflict.' Justice will prevail, not lies, denials and fake Nobel prizes", Thaci wrote on Twitter.
A ruling of the Basic Court in Pristina against a former Kosovo Serb minister, Ivan Todosijevic, sentencing him to two years' imprisonment for denying the Recak massacre, has triggered a debate in Kosovo and Serbia, with Belgrade authorities, including the President, denying a massacre took place on 15 January 1999 against Albanian unarmed civilians in the village of Recak in Kosovo. Following the reaction of the Serbian president, it was also the EU which issued a statement saying that there is no place for negating or relativizing the events which took place in Recak in Kosovo in January 1999. Also the US Embassy in Pristina has issued a short statement, qualifying as unacceptable the statements of the Serbian President regarding Recak.
The statement of U.S. Embassy in Pristina, December 7, 2019
The incendiary rhetoric and historical revisionism we have seen recently with regard to the events of 1999 are unacceptable. We also caution against selective prosecution of speech on the basis of political orientation or community. Freedom of speech has long been a bedrock principle of democracy. The events of this week pose another reminder of how important it is for Kosovo and Serbia to return to the table and refocus their energies on the future by normalizing relations./ibna