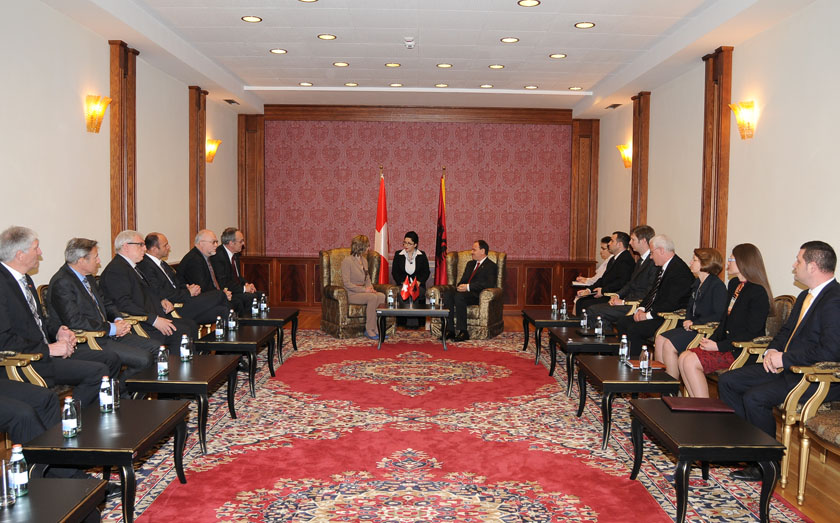 Tirana, April 5, 2013
The President of the Republic, Bujar Nishani held a meeting with the President of the Swiss National Council, Mrs. Maya Graf, who visited Albania at the head of the Parliamentary Delegation.
The Speaker of the Swiss Parliament Graf, after thanking the President for the good words about her country, stated that Switzerland will continue to support Albania with investments offering its experience in the fields as vocational training and decentralization of the local authorities.
President Nishani and the Speaker of the Assembly agreed upon the increasing of the dialogue and high rank relations which serve the collaboration between the two countries.
On her behalf, President Nishani expressed his gratitude and thanked for the help and support of Switzerland and its institution these last two decades in all the fields, exemplifying energy and the decentralization of the local authorities etc.
The Head of State stopped in the economical collaboration between Switzerland and Albania, informing the Chairman for the options that Albania provides for foreign investments in the fields such as infrastructure, energy, tourism and agriculture etc.
President Nishani appreciated the Switzerland's support for Kosova, as a precious contribution for the stability and safety in the region, and assured that Albania and Albanians will continue to support good neighborly relation, regional collaboration and the solutions of issues through dialogue. /ibna/