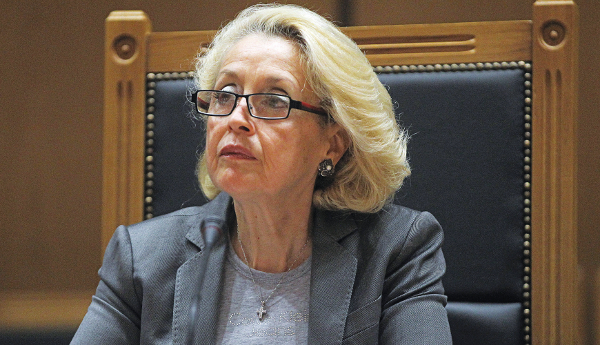 Athens, July 10, 2015/ Independent Balkan News Agency
By Spiros Sideris
The new president of the Supreme Court, Vasiliki Thanou-Christofili, has sent a letter to her counterparts of the Supreme Courts of the European Union, in which she states that the question of the referendum last Sunday, was not "the exit from the euro "and explains that "the vast majority of the Greek people does not want Greece to exit the Eurozone".
In her letter, Thanou, states that 'the question on Greek referendum was not the exit from the euro, as wrongfully supported some of the representatives of the European institutions and some of the European politicians, but was clearly the approval or not of the proposal of the institutions for new austerity measures, without the restructuring of the Greek debt".
In this question, Thanou reminds to her European colleagues, "61.3% of the Greek people voted NO".
At the same time, the new president of the Supreme Court stresses that the Greeks "do not ask not to pay the debt of the Greek state, for the creation of which they certainly have no responsibility, since it (the debt) is due firstly to the mismanagement of public funds by governments, and on the other hand to the incorrect economic policy that was implemented in the last five years, based on MoUs imposed by the Troika, which proved unsuccessful since they led to greater recession, unemployment and impoverishment of a large part of the Greek people".
In another part of the letter, Thanou makes it clear to her counterparts, that some of the European politicians "incorrectly, want to appear likable to their own voters", by saying that "the Greeks want a solution that will be to the detriment the peoples of the other nations of the Eurozone".
However, Thanou notes that "all European partners must understand that the country in which the Republic, philosophy and European culture was born, the country which has a dominant geopolitical position for the security of the entire European continent, is unthinkable to be forced out of the eurozone".
Moreover, the president of the Supreme Court underlines that "the position of the Greek people to stay in the Eurozone also underlined the Greek Prime Minister in the European Parliament and this position shared almost all the political leaders of other parties, at a meeting chaired by the President of the Republic".
From the presidents of the Supreme Court of the European Union, Thanou and asks to inform all their colleagues and use their influence to contribute in the best way "to find a fair solution to the Greek problem which is also a European issue".