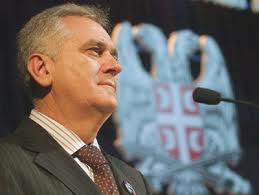 Pristina, May 9, 2013, by Tinka Kurti-The President of Serbia, Tomislav Nikolic believes that the suspension of talks makes things difficult for Serbia. He says that an agreement should be found with the Serbs of Kosovo for this, but he continues to reject the independence of Kosovo.
"Serbia is ready to find a solution for the issue of Kosovo through the talks with the authorities in Pristina, but the talks cannot be made with those who say that Kosovo is an independent state which extends as far as Serbia", said Nikolic.
Nikolic said that several Serbs and Albanians do not like the agreement.
"Today we have an agreement that several Serbs of the north do not like. Even several Albanians do not like it. Kosovo has demanded the dismantlement of parallel institutions and the establishment of temporary ones without the participation of Serbs", added Nikolic.
Stressing the importance of talks, Nikolic mentioned the NATO bombings on Serbia, adding that this country cannot fight against two forces.
"Our children must grow up without the taste of war, bombs and airplanes. This is the reason why Serbia cannot put itself in a position where it risks to be bombed", said Nikolic. /ibna/