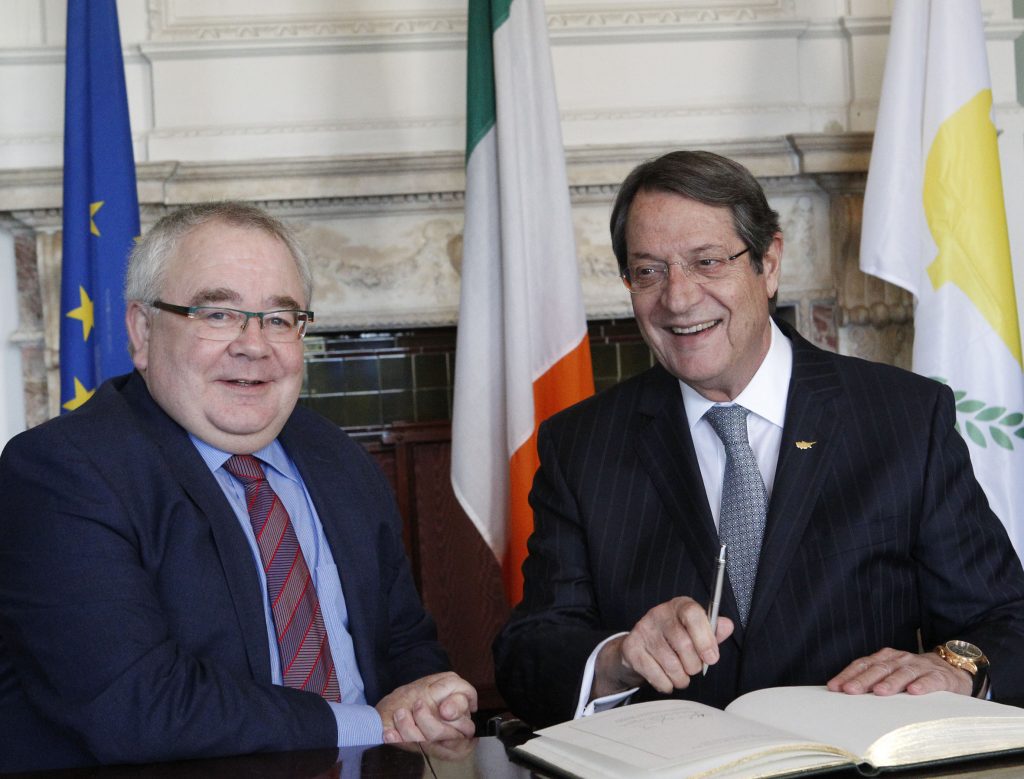 The President of the Republic, Mr Nicos Anastasiades, had today 18 October 2016, separate meetings with the Chairman of the Lower House of the Parliament of Ireland, Mr Sean O Fearghail and the Chairman of the Senate, Mr Denis O'Donovan, at the Parliament building, in Dublin.
The meetings dealt with issues related to the bilateral relations of the two countries in the fields of commerce, economy and tourism; special reference was made on the interest of Ireland in the Cyprus problem considering that Ireland is the third largest contributor to the Committee of Missing Persons in Cyprus and is also one of the first countries that contributed a detachment in UNFICYP, the peacekeeping force in Cyprus.
During the meetings, the President of the Republic also briefed his interlocutors on the latest developments on the Cyprus problem and the efforts to find a solution.
At the meeting with the Chairman of the Lower House, there was a briefing by the Irish side about the plans for the establishment of a Friendship Group between the Irish Parliament and the Cyprus House of Representatives.
Commemorative gifts were exchanged during the meetings.
The President of the Republic presented the Chairman of the Lower House with a silver copy of an amphora from the Kyrenia Ship, whereas the Chairman of the Lower House presented the President with a silver decorative clock containing the emblem of Ireland.
President Anastasiades presented the Chairman of the Senate with silver plate containing a printed image of a mouflon, whereas the Chairman of the Senate presented the President of the Republic with a copy of an Irish small ship./IBNA
Photo: www.pio.gov.cy/