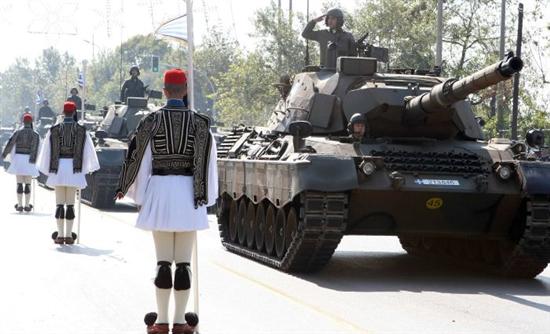 By Spiros Sideris – Athens
President of the Republic, Karolos Papoulias, will be in Thessaloniki on Monday to attend (for the last time as president) in the events of the national anniversary of October 28. Papoulias will arrive in the city  in the afternoon and go to the Ministry of Macedonia-Thrace, where he will meet with minister Giorgos Orfanos.
On Tuesday morning, he will lay a wreath at the memorial of the Third Army Corps at 11:00 and will follow the parade of political and military departments on the Alexander the Great street. On behalf of the government the parade will be attended by Defence minister Dimitris Avramopoulos.
An official choral service took place in the church of St. Demetrios on Sunday morning for the triple celebration of the liberation of Thessaloniki, the patron saint of the city, St. Demetrius' day and the national holiday of "No". The government was represented by the minister of Macedonia-Thrace, Giorgos Orfanos.