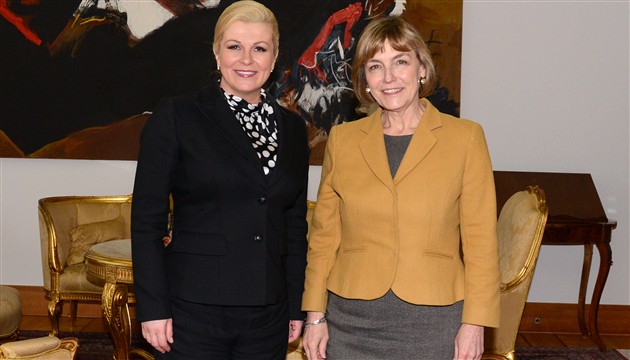 Zagreb, February 5, 2015/ Independent Balkan News Agency
By Marija Avramovic
President of Croatia Kolinda Grabar-Kitarovic met on Wednesday with the first Deputy Prime Minister and Foreign Minister Vesna Pusic, the office of the president announced.
"The meeting was used to discuss key foreign policy issues and projects with special emphasis on cooperation within the European Union, as well as in South Eastern Europe. At the meeting were agreed modalities for further cooperation and regular exchanges of views for coordinated foreign policy action", noted a brief statement from the office of Grabar Kitarovic, who acted as Foreign Minister from 2005 until 2008.
The meeting of Pusic and the new president is not too surprising, since current chief of diplomacy at the end of January, in a statement to reporters had said that Grabar Kitarovic expressed the desire for a meeting.
After the election victory of Grabar Kitarovic and during preparations for the inauguration, there were talks in the media about the relations between these two when they appeared in the media headlines which stated that the Ministry of Foreign Affairs was obstructing the organisation of the inauguration, but it was denied first by Pusic and later by the team of the new president.
Since she took the office, Grabar Kitarovic met with the Minister of Defence Ante Kotromanovic and Economy Minister Ivan Vrdoljak and yesterday it was confirmed that she will finally meet with Prime Minister Zoran Milanovic.
The President and The Prime Minister will meet on March 12 at the session of the National Security Council, on neutral ground, in the building of the Parliament.
The Government explained that the Parliament was the most important political institution in Croatia, and as such, was the best place to hold a session of the National Security Council.