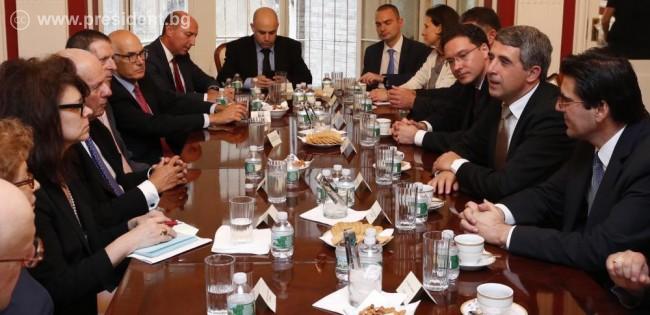 New York, September 21, 2016/Independent Balkan News Agency
By Clive Leviev-Sawyer of The Sofia Globe
Bulgaria should speed up preparations for accession to the euro zone, otherwise it risks falling behind in the process of decision-making in united Europe, President Rossen Plevneliev said at a meeting in New York with Jewish organisations.
Plevneliev, in New York for the opening session of the United Nations General Assembly, held his traditional meeting with representatives of the global Jewish community on topical issues in Europe and the world, his press office said.
He said that after the UK's Brexit referendum, the EU needs a new impetus to the process of European integration, to regain the trust of European citizens in the institutions.
Plevneliev and the representatives of the Jewish community shared their concerns about the increasing populism in Europe and internationally, the statement said.
The Jewish organisations expressed gratitude to Plevneliev for Bulgaria's commitment in the fight against terrorism.
The eepresentatives of Jewish organisations praised the work of the Bulgarian authorities and welcomed the progress in the investigation into the terrorist bombing attack against Israelis at Bourgas Airport in July 2012, which is being brought to trial.
The trial is scheduled to begin on September 26. The accused are to be tried in absentia.
At the meeting, the President outlined the progress on ongoing reforms and modernization in key sectors in Bulgaria as well as aspects of strategic partnership with the US and Israel in various fields such as energy, security and defence, and the fight against terrorism, the statement said.