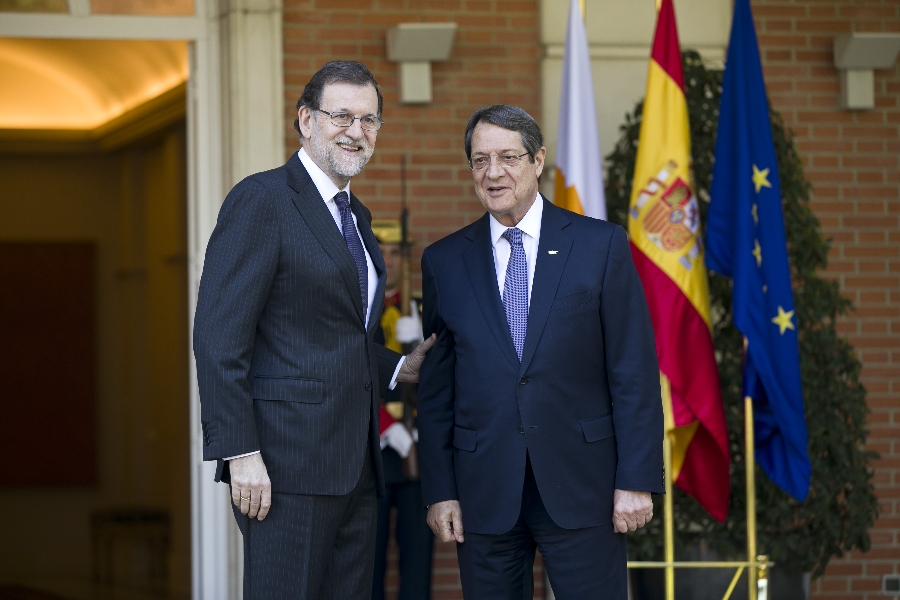 The discussions with the Prime Minister of Spain create the prospects for further deepening the already excellent relations between Cyprus and Spain, said the President of the Republic, Mr Nicos Anastasiades, today.
In his remarks to reporters, following his meeting at noon today with the Spanish Prime Minister, Mr Marianno Rajoy, at the Prime Minister's Office in Madrid, the President of the Republic said that "the meeting with Mr Rajoy left me fully satisfied because the issues that were discussed create the prospects not only for further deepening the excellent relations that we have, but also for the important contribution of Spain to what we seek since we had the opportunity to discuss our bilateral relations, the Cyprus problem and in particular issues related to the demands raised (by Turkey), the issue of Britain's exit from the EU and, of course, the prospects and the future of Europe.
With regard to the bilateral relations, I repeat that what leaves me satisfied is the fact that there is on the part of both governments the determination to strengthen even more the excellent relations that already exist.
Concerning the Cyprus problem, the most interesting aspect is the fundamental principle that the Spanish Prime Minister expressed and which is identical to our own positions, namely, that there cannot be a solution without respect for the European principles and values, the European acquis, and there cannot be a solution with derogations from these principles like the demand for the four freedoms (that is raised by Turkey.) I also have elaborated in detail to the Spanish Prime Minister matters regarding the guarantees and some other issues that are raised.
We also share common positions with regard to the negotiations for Britain's exit as well as on the prospects for the future.
More importantly, however, all the issues that we dealt with in our meeting will also constitute the subject matter of the Conference of the European countries of the South."/IBNA
Photo: pio.gov.cy