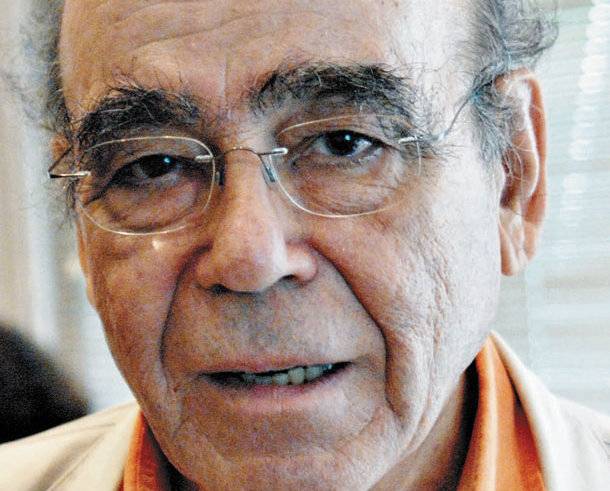 Athens, January 13, 2016/Independent Balkan News Agency
By Olga Mavrou
"The pressures that a language can exert are directly proportional to its volume, to its general level of development that is related also to the economic strength that supports it. The Greek language is a very small one  in every respect. It is spoken by 10-15 million people. So its can not push, it can only defend itsself. For this purpose it has a powerful weapon, and this is its long history. Human thought, human sensitivity, were delimited with its own measures. These measures remain in place and no one can ever remove them".
This is a part of the speech Thanassis Valtinos (photo) gave, as the new president of the Greek Academy, during a ceremony. He was installed as the president – and Loukas Papademos as the vice president. The office was handed by the well known physics professor Mr. Dimitris Nanopoulos, who was the president till the end of 2015.
In his speech, Mr. Valtinos,  the new president, referred to the tumultuous past of the Greek language, mainly the passionate fights between the followers of dimotiki (the modern vernacular language)  against the supporters of the revival of ancient Greek through the form of "katharevousa", a mixture of ancient Greek and dimotiki. He said that "though there were real fights about it in the past,  now we look at those violent clashes with calmness. Yet we are not as calm when it comes to analogous criticism of the current problems with our language. And I wonder if the question mark we sometimes put on linguistic issues today  is essentially a question mark on our ethnicity".
Mr Valtinos also stressed the fact that when a language is not spoken by many millions of people, then the writer is doomed. Americans or British writers are lucky, in the sense that billions of people can read them and so they exist and thrive . But Alexandros Papadiamantis, this excellent Greek writer, simply does not exist outside the imaginary borders that the Greek language poses. This is quite unfair for any person that writes in a minority language, What can the Greeks do against the gradual disappearance of their own language? How can they resist this pressure of English against all small languages?
The new president Thanasis Valtinos was elected regular member of the Athens Academy in 2008 and from the beginning of 2015 was elected as its vise president. He was born in Kastri of Kynouria and studied in Sparta, Gythio, Tripoli and Athens. He studied mainly cinema and theater  and wrote scripts and literature He lived for many years abroad, in the USA, England and West Berlin.  He has translated Euripides'  "Trojan Women"  and Aeschylus'  "Oresteia". He wrote screenplays and won the prize in Cannes festival for his script in Angelopoulos'  film "Voyage to Cythera".
He is a member of the European Academy of Sciences and Arts, of the Society of Greek Playwrights and of the Society of Writers, of which he presided for many years.