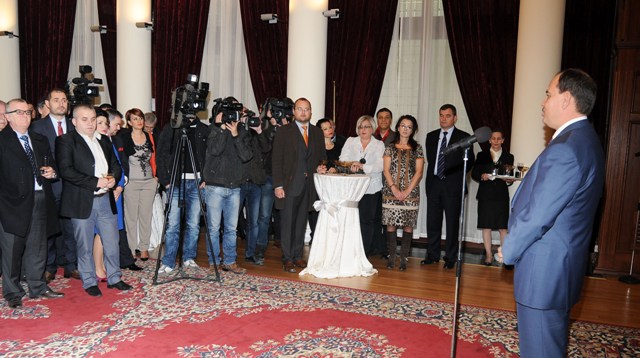 Tirana, May 23, 2013
The President of the Republic, Bujar Nishani had a meeting today with media representatives  and journalists, where he declared that this meeting was focused on the electoral situation in the country.
According to him, the elections are very important for the life of the country, underlining that the contribution of the elites is a responsibility and requirement of society.
"Media represents a real power. Every media has its editorial policy, but I believe that they share together the idea and the belief that editorial policies must be highly responsible when it comes to major national issues. This is the reason why I called this meeting, to ask for your contribution in the electoral campaign on the day of election and after the election, in order to do your best in monitoring the process", declared Nishani.
Nishani demanded for the elections to be reflected with transparency in order to show what's really happening and by avoiding unnecessary emotions.
As far as the electoral campaign is concerned, the president said that he had often seen different opinions about a possible failure of the electoral process in Albania.
Referring to his electoral experiences, Nishani said the public opinion is the best guarantee for a normal electoral process.
President Nishani expressed his belief that Albania has all the potentials to hold elections with high standards, but stressed that this belief has been consolidated due to the level of maturity of electors throughout electoral processes. /ibna/