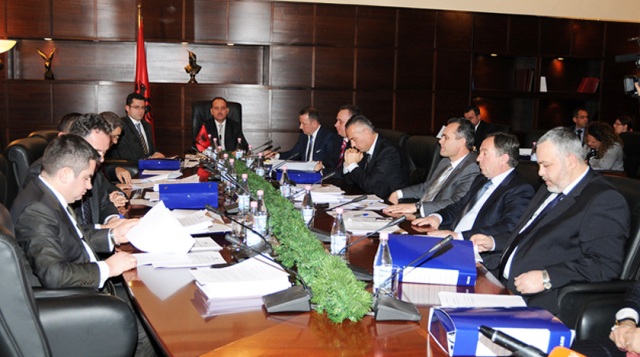 Tirana, July 5, 2013
President of the Republic, Bujar Nishani has praised the work done by the Supreme Council of Justice, while considering the attacks recently launched by the political class against this institution as "unfounded".
"I commend the work of the SCJ and I reject the unfounded attacks launched by political class against this institution. SCJ doesn't link its work with political majorities or the work of the government, but it has based it on the law and Constitution", said Nishani.
"I, in the quality of chairman of this council, am proud as to the work done to denounce judges for their corruptive acts. For the first time, this council brought a model of promotion of judges, not based on political blackmail and the model of friends, but based on merit. I invite you to preserve this position. I'd like to encourage you to continue your work, offering what you possess as personalities of this domain and the responsibilities that you have toward public opinion to establish standards which will be irreversible in the future. I'm convinced that if you're transparent in your activity, you will do an honor to the public opinion and judges", declared Nishani.
SCJ approved the bill on the regulation of this Council, while it continues its deliberations over the names of the future judges which will fill vacancies in the Court of Appeal in Tirana and the 16 judges of the Administrative Court of First Instance in Tirana. /ibna/