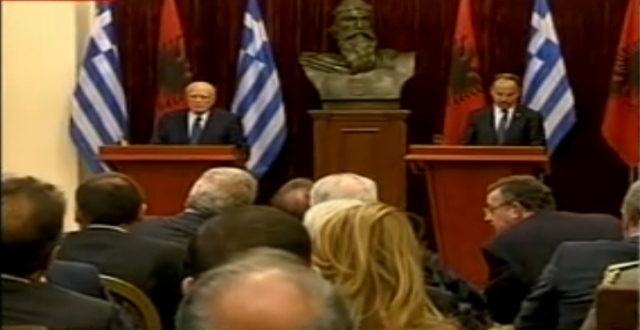 Tirana, November 4, 2013
At the end of the meeting between president of republic, Bujar Nishani and his Greek counterpart, Carolos Papulias, the contribution and the role of the two countries in the neighborly relations was praised.
In a joint press conference after the meeting, Nishani declared that he thanked the Greek counterpart for his support toward the Albanian people, stressing that the Greek minority in Albania is a bridge of cooperation.
"We encouraged economic and commercial cooperation between the two countries, while as far as the future between the two countries is concerned, we believe that all problems should be resolved. I demanded for the Greek parliament to abrogate the war law and I also demanded for a solution for the issue of toponyms, which has turned into a serious problem for Albanian citizens. The issue of the sea border is an issue which is expecting to be resolved and we are ready to find a solution with the Greek side according to the legislation in power. The case of Kosovo showed that through good will, issues of neighboring countries can be solved", said Nishani.
On his part, the Greek president considered the Greek minority in our country and the Albanian emigrants in Albania as a powerful element in the relations between our two countries.
He said that during Greece's EU presidency, Greece will continue to advance the expectations of Albania toward integration. He also invited president Bujar Nishani for an official visit to Greece. /ibna/