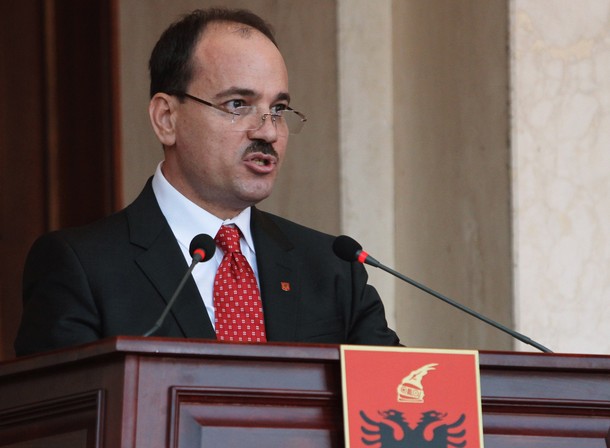 Tirana, June 13, 2014/Independent Balkan News Agency
Albanian president, Bujar Nishani has started a lobbying campaign, officially demanding to the heads of states of European Union member countries to grant Albania the EU candidate membership status.
Nishani has sent a message to all the heads of states of the EU member countries, in an attempt to lobby for Albania to be granted the EU candidate status based on its merits and achievements.
The message was sent to the presidents of Germany, France, Italy, Greece, Latvia, Croatia, Austria, Poland, Hungary, Romania, Slovakia, Czech Republic, Estonia, Ireland, Malta, Cyprus, Finland, Portugal, Bulgaria, Slovenia, Lithuani. A letter has also been sent to Queen Elisabeth II of the United Kingdom, King of Netherlands, Belgium, Sweden, Spain, Queen Magrethe II of Denmark and Great Duke Henry of Luxembourg.
The message addressed to the heads of European states says among others that:
"The European aspiration has been and remains the most unifying aspiration of the Albanian people which has been struck many times by the bad luck of occupations and harshest dictatorships, but a people that survived and began twenty four years ago a new history, – the history of democracy and integration into the great European family which is continuing and moving forward every day with an unwavering determination".
The president underlines the fact that "For quite some years Albania is waiting to be granted the status of candidate country by the EU member countries and positive recommendations of the European Commission represent an authoritarian confirmation that my country fully deserves the further advancement towards the European family".
He says that June Rapport accompanying the repeated positive recommendation of the European Commission notes that Albania has convincingly fulfilled and met the required conditions and that it clearly deserves further recognition by the European Union.
Based on these reasons, the president said that "June 23rd decision-taking about this issue will be a clear message to not only continue with renewed inspiration and energies on the most advanced reforms path, but above all for the citizens of my country, for the young men and women who represent the majority of the population and represent the European future of Albania".
"While wishing for and welcoming your support and that of your country to grant Albania the status of the candidate country, please allow me to emphasize that receiving the status by Albania would consist also in an important political message to the Western Balkan countries as well and also a recognition to the historical and constructive role of Albania in the region and a higher encouragement and responsibility for the state institutions of my country to further advance towards the united Europe", concludes the message of president Nishani. /ibna/