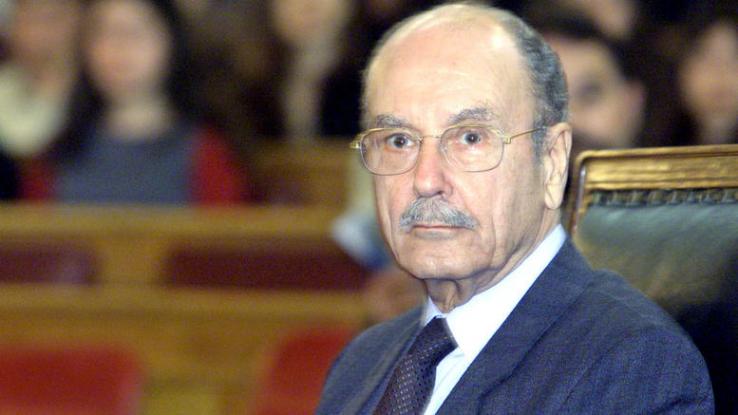 The former President Kostis Stephanopoulos died on Sunday night, at 23.18, at the hospital "Errikos Dunant" in Athens where he was hospitilized suffering from a serious respiratory infection, according to his doctors.
Ninety-year-old Stephanopoulos was hospitalized on Thursday night suffering from a serious respiratory infection. According to information released the next day, his condition was viewed as serious, given his age and weak health.
"He was admitted to hospital with fever and severe respiratory difficulty. It was found to suffer from pneumonia," Dr. Antonios Dimitrakopoulos said. "Despite intensive treatment, his clinical picture was deteriorating with failure of multiple organ systems," he added.
Stephanopoulos was born in Patras. After attending the Saint Andrew school of Patras, he studied law at Athens University. He practiced law from 1954 until 1974 as a member of the Bar Association of Patras.
He first stood for election in 1958, with the National Radical Union and was elected for the first time as Member of Parliament for Achaia in 1964. He was re-elected for the same constituency for New Democracy (ND) in 1974, 1977, 1981 and 1985. He served as ND parliamentary secretary and parliamentary spokesman between 1981 and 1985.
In 1974, Stephanopoulos was appointed Deputy Minister of Commerce in the National Unity government of Constantine Karamanlis. For the next seven years he served in a number of ministerial posts in New Democracy governments: Minister for the Interior from November 1974 to September 1976; Minister for Social Services from September 1976 to November 1977; Minister for the Presidency from 1977 to 1981.
In August 1985 he withdrew from the ND and on 6 September of the same year formed the Democratic Renewal (DIANA). He was elected Member of Parliament for Athens in the elections of 1989 while continuing as president of DIΑΝΑ, until it disbanded in June 1994.
In the presidential election of 1995, after being nominated by the conservative party Political Spring and supported by the ruling Panhellenic Socialist Movement (PASOK), he was elected President of Greece on 8 March 1995. He became the sixth President since the restoration of a democratic system of government in 1974 and the fifth person to hold the office, winning the election on a third ballot with 181 votes. He was re-elected on 8 February 2000, on the first ballot after receiving 269 votes from the 298 MPs present, and remained in office until 2 March 2005, when he was succeeded by Karolos Papoulias.
As a President he was known for his low-key profile, unifying approach to current and international affairs, and gentlemanlike behaviour. During his presidency, he was consistently the most popular public figure in Greece.
As head of state of the host country, he officially declared the XXVIII Olympiad in Athens open, on 13 August 2004. During those Olympic Games he received the former king Constanine II at the Presidential Mansion. It was the highest political recognition given to the latter since he had been deposed in 1973.
Stephanopoulos died at 23:18 in Henry Dunant Hospital, Athens, on 20 November 2016 at the age of 90. He had been hospitalised three days earlier, suffering from fever and severe respiratory difficulty, which later emerged as pneumonia./IBNA
Source: wikipedia