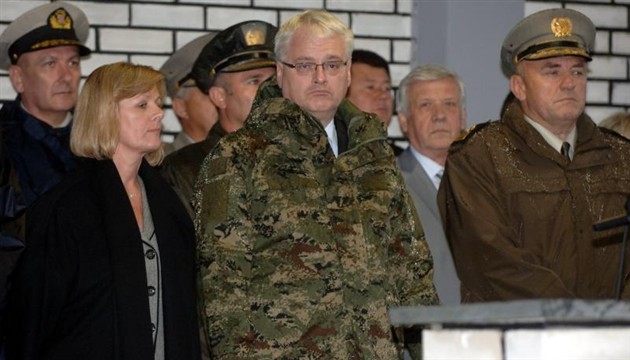 By Marija Avramovic – Zagreb
Croatian President Ivo Josipovic announced today that he was willing to be a mediator between the Ministry of Veterans and the protesters, who were invited into his office, pointing out that it was important to communicate.
"The task of all of us is to care about them, something I regularly do. I got in touch with them, and this latest case is the result of poor communication. I call them to come to my office for talks and I'm ready, as was the case with other protests, to be a mediator. I'm happy to heard the government does not plan to take away any of defenders' rights, too", Josipovic said.
Protesters are spending the fifth day outside the Ministry of Veterans and now eagerly await President Josipovic to come and pay them a visit this afternoon.
Although no official confirmation came from contacts with the Chief of Staff of the Armed Forces Drago Lovric, who is the mediator in this case, protesters perceived that the president would respond to their call for dialogue.
President of the Association of 100-percentage Croatian war invalids of the first group, Djuro Glogoski explained that after yesterday's public call to the highest state officials to a roundtable organised by veterans in a tent in front of the ministry building on Tuesday, October 28, they sent an official letter today.
Prime Minister Zoran Milanovic has not responded to their call and the president of Croatian Parliament Josip Leko allegedly invited veterans for a discussion.
However, Josipovic has done the most by charging Lovric to invite veterans, on his behalf, for talks during the very same day.