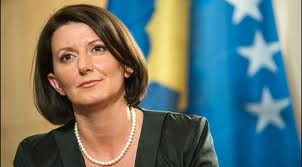 Pristina, May 8, 2013, by Tinka Kurti-It's still unknown if elections will be held in communes with a Serb majority population. This hasn't been clarified even by the President of Kosovo, Atifete Jahjaga, although the elections are only a few months away.
The spokesman of Jahjaga, Arber Vllahiu has said that Serbia is expected to help, based on the agreement. "Even the Republic of Serbia has accepted the agreement of Brussels, as an equal party to it, in order not to fund the illegal and parallel structures and not to assist them", said Vllahiu.
According to Vllahiu, the President of Kosovo, Atifete Jahjaga has constantly declared that the situation in this part of the country requires the establishment of law and order with the scope of exerting authority in the entire territory of Kosovo.
The local government elections are expected to be held at the end of September. /ibna/