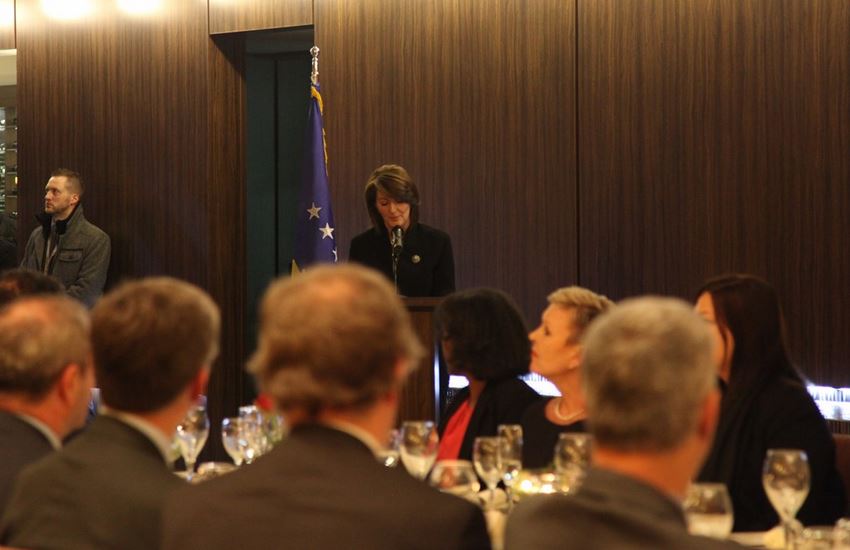 Pristina, March 13, 2015/Independent Balkan News Agency
By Elton Tota
President of Kosovo, Atifete Jahjaga has hosted a dinner last night in honor of foreign diplomats accredited in Kosovo.
The president told ambassadors that Kosovo spent half of 2014 without functional institutions, with an aggravated economic situation and in the end with a significant number of people leaving the country in search of a better life.
"We have not had a good year, as you have witnessed. The early elections, the long and complicated process of the creation of the government, the wave of illegal emigration are some of the developments that accompanied last year and which were carried forward this year", said president Jahjaga.
According to her these developments have put more pressure on Kosovo's institutions and have caused more frustration for the citizens of the country.
"In spite of these developments, I have seen Kosovo rise and become stronger. We have seen a Kosovo committed for the rule of law, a country which is faithful to fundamental values", she said.
Jahjaga expressed her conviction that these difficult moments will be overcome.
"I'm strongly convinced that our ability to overcome these difficult moments and address them in a practical way, is a testament of the love that the people of Kosovo have for their country, of our maturity and of our strength", said president Jahjaga.
Jahjaga said that she's aware of the tasks that the young state is expected to deliver in its path for the integration in the EU and NATO.
"Personally, I have no doubt about the seriousness of the tasks that await us and for the challenges ahead. But they will not challenge our love for Kosovo or our will for the transformation of Kosovo into the image of our aspirations, as a home for all of its citizens, a peaceful and democratic country, who deserves to join the European Union and the trans-Atlantic community, in permanent friendship with the United States of America. We have achieved so much together. I have faith in our will and our ability to take Kosovo forward", she added. /ibna/