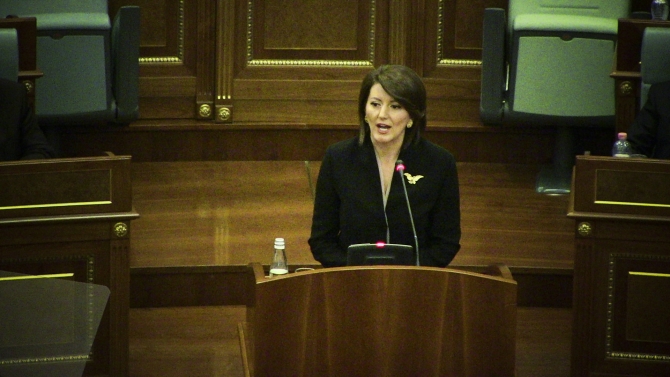 Pristina, December 18, 2014/Independent Balkan News Agency
By Elton Tota
The president of Kosovo, Atifete Jahjaga has delivered on Thursday her annual speech in the parliament of Kosovo, while for reasons which still remain unknown, the opposition has left the hall.
During her speech, the president focused on the six month political gridlock caused by political parties, on the fragile democracy of state institutions, corruption and radicalization, poverty and the patience of the citizens.
Jahjaga told MPs that for 14 years in a row, the country has blamed transition and the challenges that this transition has brought, but said that now, it's the duty of institutions to work and produce concrete results.
The president also talked about the fact that many citizens of Kosovo are leaving the country to go to western countries. She said that scenes with people leaving the country show that very soon, the country will have ghost like towns.
"Images of long queues of people who wait in line to buy a one way ticket must disturb our soul. We have a responsibility for the unrealized dreams and the disappointment of the citizens about the state of Kosovo. It's our responsibility to prevent the actions of those who want to benefit from the citizens", said the president.
President Jahjaga said that the priority of the state of Kosovo is to reduce unemployment and boost economic development.
"This is not a market economy, but an economy of the so called elites. We must build a clear economic vision that defines the path. For this, we must carry out structural reforms."
Jahjaga said that the state cannot be consolidated without love for the country, by demanding for those who have personal conflicts, to leave them behind.
The president also talked about terrorism, by saying that Kosovo will not be allowed to harbor terror and dark forces.
"A year ago, I warned against the danger from extremism. Kosovo will never harbor extremism. Measures have been taken and we will be committed in order for Kosovo not to harbor these extremist forces which are trying to sprout roots in our society", said the president among others.
Jahjaga also talked about the justice system, by launching strong accusations. She said that although there's been an increase of the number of prosecutors and judges, this has not brought effectiveness.
Justice must be that pillar that guarantees the recovery of the country, Jahjaga said.
According to the president, Kosovo's institutions remain committed for dialogue with Serbia.
President Jahjaga concluded her speech by mentioning the success of judo fighter, Majlinda Kelmendi, believing that she will be a champion in Rio during the Olympic games. /ibna/