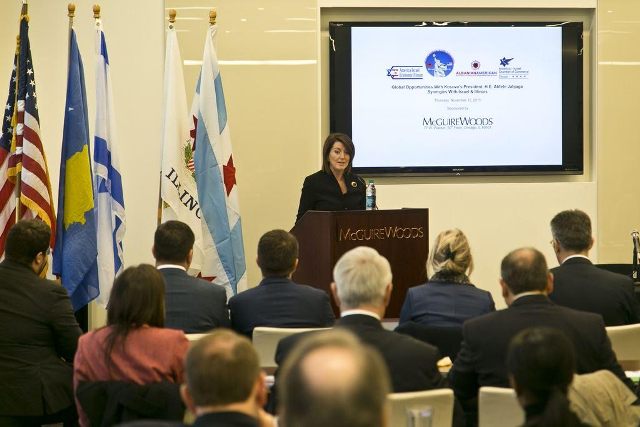 Pristina, 13 November 2015/Independent Balkan News Agency
By Elton Tota
"Today, Kosovo is different to what it was a decade ago.  We have finalized the emergency phase of reconstructing the country, which 16 years ago was completely destroyed".
This was how the speech of the president of Kosovo, Atifete Jahjaga started in the conference for economic cooperation in Chicago, USA.
"Today, our challenges are different to those with the countries in development. What happened in Kosovo after the proclamation of independence was the great transitional change of our economic system from a centralized market to a market economy which upholds individual freedoms", Jahjaga said.
Jahjaga said that for the first time, Kosovo was given a chance to produce, sell and use the country's sources.
"Economic freedoms that institutions of Kosovo enjoy today, have increased incomes, reduced poverty, increased employment and standards of living more than ever before in Kosovo", the president said.
Jahjaga said that institutions of Kosovo remain determined to cultivate the values of freedom and democracy and allow the private sector to be developed, as an important sector of the economy.
"We're aware of the fact that the private sector is a product of the environment in which it operates. For this reason, we are focused in improving business climate and rule of law", Jahjaga said.
The president also mentioned Kosovo's achievements as far as legislation drafted in harmony with the best EU standards is concerned.
"Throughout these years, Kosovo has drafted laws which are in harmony with the best EU standards and which facilitate economic development. Our legislation offers legal protection for foreign investors, protects them from discrimination and from expropriation", Jahjaga said.
However, the president admitted that the country still has economic problems.
"Regardless of these developments in our economy, we are not happy, because there are still great challenges that should be addressed. Unemployment and poverty are the top challenges. Long term and sustainable growth will only be possible if the great potentials of our country are used", she added.
"For this reason, I have brought a number of entrepreneurs from the sector of IT and communication, because we want to set up collaboration in the domain of technology and innovation", the president concluded, asking the assistance of the USA and other countries in this aspect. /ibna/