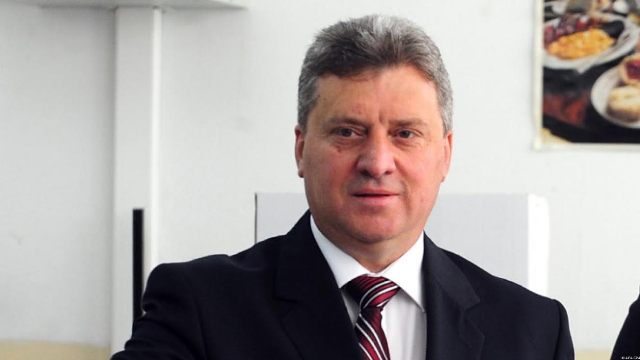 Skopje, 24 June 2016/ Independent Balkan News Agency
By Naser Pajaziti
The majority of political parties in FYR Macedonia demand the resignation of the president of the country, George Ivanov. These reactions follow the recent speech delivered by Ivanov, where he says that there is information from secret services according to which, there are efforts which aim at causing instability in the country and civil war.
The leader of the largest opposition party, SDSM, Zoran Zaev said that it is a disgrace that a president deals with such things. "If he truly has indications for a civil war, let him publish them", said Zaev stressing that it would be best if Ivanov resigns.
According to the opposition leader, the protests are being held by people who want to rescue their state from criminals.
BDI (Democratic Union for Integration) too, although he's part of the governing coalition with VMRO-DPMNE, demands Ivanov to leave, because he has no legitimacy of representing the country and the citizens.
"Ivanov's declarations are as valid as his legitimacy as president. BDI may be the only political party which hasn't changed its positioning against this man, contesting his legitimacy since he was run for president", Osmani declared.
The majority of small political parties have also reacted. Movement for Reforms-PDSH says that Ivanov's declaration according to which special war is being made, proves that VMRO-DPMNE's regime is becoming like Milosevic's regime. According to the Liberal Party, instead of uniting the people, Ivanov is dividing them.
"He must not intimidate the citizens with imaginary threats on security, because the biggest threat comes from a small group of politicians in the government which spread gossips, manipulate and put pressure in order to evade justice", DOM party says.
Mirjana Najcevska, legal expert and specialist of political affairs, says that Ivanov is showing that he serves to parties in power.
"By defending the positioning of the party in power, Ivanov does nothing else but increase divisions. With his decisions for the amnesty of incriminated officials, Ivanov has shown that he is on the side of crime and not justice", declared Najcevska, chairwoman of the Helsinki Committee in Skopje. /balkaneu.com/