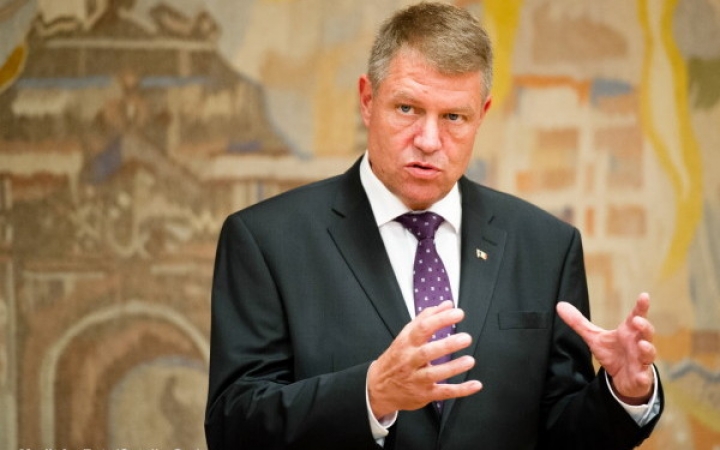 President Klaus Iohannis said on Thursday, during a press statement at Cotroceni Palace, ahead of the European Council in Brussels that the future of the EU is on public debate, an official final decision will be made until 2019.
One of the most important topics on the agenda is the proposal forwarded by the European Commission President Jean-Claude Juncker, on the approach of the future European Union.
In the press statement at the Cotroceni Palace, before leaving for Brussels, Klaus Iohannis stressed that Romania supports a united European Union, powerful and solidary. Even now the EU Member States move in 'multi-speeds', proof stand the eurozone or the Schengen Area, this should not be turned into long-term goal, but countries that move slower must 'work harder', Iohannis said.
"Our position is well known. We have this position from the beginning. We reiterated it every time it was brought up. We believe, and I said this very clearly and firmly, in a powerful EU, united and solidary and that consolidation must be worked out together, by all 27. For this reason we opined that it is not good to go to have the options such as the multi-speed Europe, or two-speed Europe, or Europe of concentric circles. No, we want a European Union united and powerful. This has been and will continue to be presented as Romania's position by myself and by all other the participants in the debate and in the diplomatic process," Iohannis said.
The Romanian President also said that on Friday there will be an informal meeting of the 27, without the UK, in order to prepare the meeting in Rome on March 25.
The first conclusions will probably be approved by the European Council meeting in December 2017. On that occasion further steps would be agreed upon, until H1 2019, when the completion of the process is expected, before the elections for the EP and the EC./IBNA
Source: romaniajournal.ro