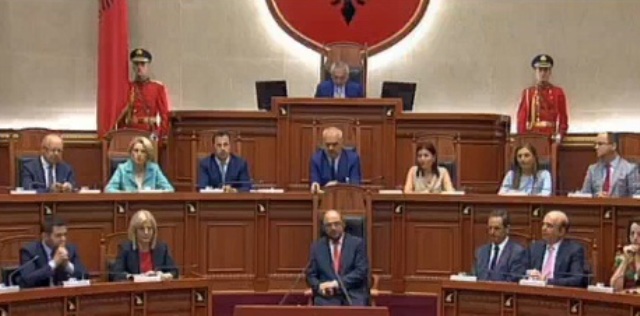 Tirana, 14 July 2015/Independent Balkan News Agency
President of the European Parliament, Martin Schultz addressed today the Albanian parliament where he expressed his concern about the conflicting situation between political parties in the country, while calling for dialogue.
"Commissioner Hahn has expressed his concern about the political climate in the country. I share the same concerns with the commissioner. I had the chance to create an impression about the difficulties in the country. I call upon the political class to act in accordance with the 13 priorities of the high level dialogue. Progress requires dialogue", Schultz said.
Meanwhile, the President of the European Parliament added that independent institutions are the key for the fight against corruption and to further encourage the government in this fight.
Mrs. Schultz mentioned PM Edi Rama's visit to Serbia and that of the Serb PM, Aleksandar Vucic to Tirana. As far as the relations between the two countries are concerned, he said that it's normal for the neighboring countries to have differences in opinions.
"We solve our differences through dialogue and consensus. We talk until we reach a solution. This process can often be tiring. What is the alternative to consensus and dialogue? For the stronger to impose himself on the weaker? No, the fact that Albania and Serbia are getting closer, shows that a friendly atmosphere can be created", Schultz said.
Schultz also added that the group of 6 prime ministers of Western Balkan is paving the path for a better future, both from the economic point of view and also from the political and human point of view. /ibna/