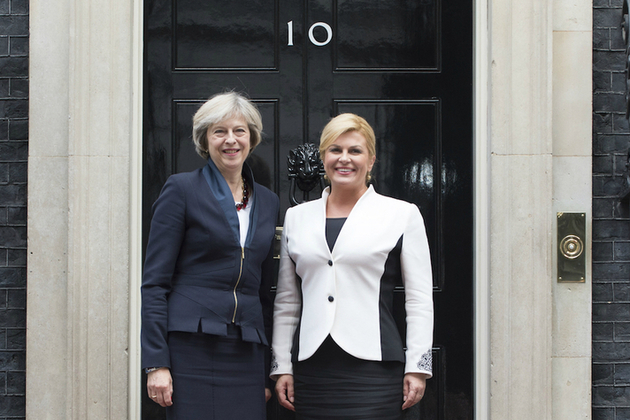 London, October 12, 2016/Independent Balkan News Agency
Croatia will do its best to protect the rights and interests of its citizens in Great Britain following that country's decision to leave the EU, Croatian President Kolinda Grabar-Kitarovic said in London on Tuesday.
"Croatia will naturally prepare to protect, as much as it can, its nationals and their interests in Great Britain," Grabar-Kitarovic said after talks with British Prime Minister Theresa May in Downing Street.
Free movement of people and the protection of rights of European citizens living in Great Britain will be one of the main topics of negotiations between the EU and Great Britain, whose citizens opted to leave the EU in a referendum held in June this year.
Grabar-Kitarovic said that the danger of migration of people from Croatia to Great Britain was rather small, recalling that Great Britain had still not liberalised its labour market for Croatian nationals.
"As President, I do not want to see people leave Croatia, but we must give equal chances to all," the president told reporters after talks in Downing Street.
She went on to say that relations between the two countries could not be reduced only to Brexit but should rather be modernised, that the two countries should focus on the present and the future and leave behind "prejudices about some old spheres of influence."
The situation in Bosnia and Herzegovina was one of the topics discussed by May and Grabar-Kitarovic, who warned that there was a danger of the entire Southeast Europe becoming destabilised if Bosnia and Herzegovina's integration with Euro-Atlantic associations slowed down.
"I underlined the need to activate the country's NATO Membership Action Plan as soon as possible. Bosnia and Herzegovina… is a state based not only on the equality of individuals but on the equality of three peoples, which should be respected and ensured, and that is the best way to facilitate the country's integration with Euro-Atlantic associations," she said.
Speaking about the problem of migrations, Grabar-Kitarovic said that the cooperation between Croatia and Great Britain in NATO remained unquestionable as it concerned the common care for the security of the European continent and the Euro-Atlantic region.
Also mentioned during the talks was EU enlargement, with the Croatian president saying that Croatia did not want to obstruct any country's efforts to join the EU.
"I stressed at the talks with Prime Minister May that I believe that the best way for Croatia and Serbia to resolve outstanding bilateral issues is to do so through dialogue."
Grabar-Kitarovic, who is on a two-day visit to Great Britain, met earlier in the day with Queen Elizabeth II.
"She has fond memories of her visit to Croatia, she remembers her visit to Dubrovnik and she said that Prince Charles spoke very nicely of Croatia," said Grabar-Kitarovic.
On Tuesday evening, Grabar-Kitarovic is scheduled to meet separately with Defence Secretary Michael Fallon and the Speaker of the House of Lords, Norman Fowler, and to deliver a lecture at the London School of Economics and Political Science.
Source: aboutcroatia.net
Photo: www.gov.uk