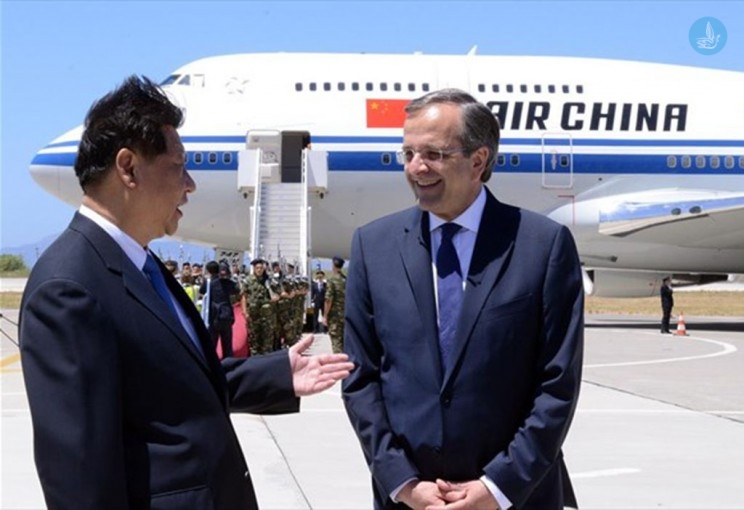 By Lefteris Yallouros – Athens
Chinese President Xi Jinping is visiting Greece along with six of the country's ministers. On Sunday he met with Greek Prime Minister Antonis Samaras on the island of Rhodes as well as counterpart Karolos Papoulias.
The Chinese President sent a message of support to Greece's economic recovery drive, stressinh his intention to personally promote Greek tourism in China.
Despite the fact that Xi's visit is not official, talks on economic cooperation between Greece and China are expected to be held.
Hailing the profound traditional friendship between China and Greece, Xi said the two countries, both ancient civilizations, have always understood, supported and helped each other.
Xi noted that both Greek President Karolos Papoulias and Prime Minister Samaras came a long way to receive him in Rhodes, which is strongly indicative of the Greek people's deep affection toward the Chinese and the great importance the Greek government attaches to its relations with China.
Furthermore, the Chinese President spoke of the progress being made on the economic front, adding that his country would continue to support Greece while also exploring possible opportunities to further forward comprehensive strategic partnership between the two countries.
On his part, Greek premier Antonis Samaras said that China is a good friend and partner of Greece and the Greek government and people are pleased to receive President Xi. Samaras pointed out that China's leadership supported Greece throughout the financial crisis exhibiting great responsibility while proving China's beneficial role on the world stage in promoting stability and peace.
China and Greece signed more than 20 cooperation agreements and business contracts during the visit of Chinese PM Li Keqiang last month. Both sides attach high importance to their relations as shown in COSCO's investment in Piraeus and interest expressed on behalf of Chinese state companies in Greece's privatization program of late.