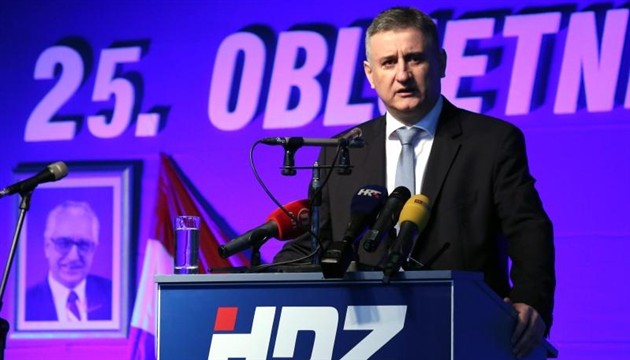 Zagreb, February 23, 2015/ Independent Balkan News Agency
By Marija Avramovic
On Sunday, at the 25th anniversary of the Croatian democratic union (HDZ), party's president Tomislav Karamarko spoke very sharply about a number of topics, among which he commented on the protest against the veterans who had been demonstrating for 4 months now in front of the Ministry of Defence.
Three men were arrested by the police during Saturday's anti-veterans protest, in which around 250 people in the column went from Zagreb's main square to the veterans tent in front of the Ministry. Thos arrested however, most likely, were not part of the protest column, but insiders who tried to cause conflicts within the column, reported the Zagreb police.
Responding to a reporter's remark that Josip Klemm, one of the organisers of the veterans protest, said that the anti-veterans protest was organised by order of Prime Minister Zoran Milanovic, Karamarko refused to speculate on names, but expressed his concern about Croatia's excessive economic problems which could create conflict situations.
Talking about his recent public appearances and the rhetoric which he used, for which many assessed it  will give Milanovic another term, Karamarko replied that his rhetoric is patriotism, respect for veterans and Homeland war.
"My rhetoric, which is only the expression of patriotism, respect for the Homeland War and our defenders, indicates that we have to start a 'second Homeland War', in which we will have to fight for every job, for every uncultivated field and for every boy and girl who want to leave Croatia", Karamarko explained.
This statement by the President of the biggest opposition party rose a hue and cry yesterday on social networks and on comments on portals, especially among those who do not want another war, especially a civil one, in any case.
Some political analysts perceived this Karamarko's statement as a clear sign that the election campaign for parliamentary elections has already began.