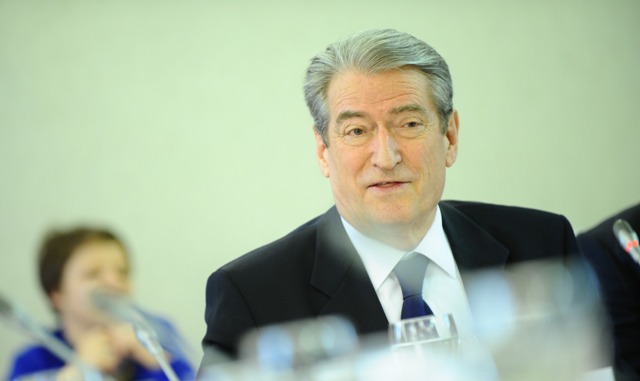 Tirana, 6 August 2015/Independent Balkan News Agency
By Edison Kurani
In Albania, suspicions have been recently raised that the Democrat MP, Sali Berisha has met with Osama bin Laden in Tirana, when he was President of Republic.
The news was published yesterday in several international media. They suggest that Osama Bin Laden has stayed in Albania during the time when Sali Berisha was president and has even met with him.  Based on a document published on the media, the plan was for Berisha to set up a meeting between bin Laden and former prime ministers Ramush Haradinaj and Hashim Thaci.
The news and the published document are denied by the former president and former prime minister Sali Berisha.
To him, "this is an ordinary and unscrupulous lie spread many years ago by Greek and Serbia media, without any basis".
Berisha says that 20 years ago, he received a representative of Saudi Arabia, but bin Laden was not part of the delegation.
"Osama bin Laden has never stepped in Albania as part of a high level delegation of Saudi Arabia, which visited our country in 1995 or in any other case", Berisha says.
"This claim is ridiculous due to the fact that it's well known that at that time, the Saudi dynasty was declared by Osama bin Laden as an enemy which had to be overthrown due to its close ties with the USA", Berisha adds.
He says that from 1992 until 1997, Albania has offered a crucial contribution, "bigger than any other country of the region and beyond, in the fight against terrorism in close collaboration with intelligent agencies of partner countries".
In the '90s, a large number of Arab citizens came to Albania to help with the recovery of the Muslim religion after many years when religion was forbidden by law and to help orphans and poor families.
Albanian secret services, in cooperation with counterparts from the USA and Europe, have conducted several operations for the arrest of people who were wanted for ties with terrorist activities. From 1995 until 1999, there were several operations like those ones in Tirana, Elbasan, etc. /ibna/