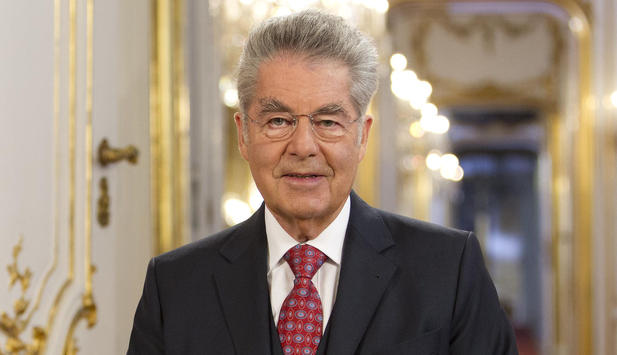 By Spiros Sideris – Athens
Austrian President Heinz Fischer will be on a two-day visit to Athens on October 22-23.
During his visit in Athens, apart from talks with his Greek counterpart Karolos Papoulias, the Austrian President will have meetings with Prime Minister Antonis Samaras, Deputy Prime minister and Foreign minister, Evangelos Venizelos, as well as the opposition leader, Alexis Tsipras. His former, first visit as President of Austria in Greece had been seven years ago.
In an exclusive interview to AMNA, in view of the two-day working visit to Greece, Fischer refers to a range of timely and important issues, such as tackling the economic crisis, the developments in Europe and the world, but also to the Cyprus issue.
It seems that now Greece has overcome the difficult times of the crisis and this can signal the beginning of growth, said the Federal President of Austria, Heinz Fischer, and estimated that the situation is improving, however the question for the causes of this crisis will linger for a long time, as will its effects.
Making extensive reference to the economic crisis in general, the Austrian President notes that its start was assessed incorrectly and had perhaps been underestimated, while he felt that even today, no one can distinguish clearly the causes and long-term implications it will have to the next generation, since looking at the years after 2008, one finds a deep collapse and radical change in social evolution. And it's not "only" for the economic development, numbers of exports, monetary developments or crisis of the euro, but for the changes in social structures and power relationships within society, without one being able to say that all these will finally be overcome in 2015 and everything will be as it was before, but it must be said that a few years after the beginning of the 21th century there was a radical change to the social and political structures and the real answers to that have not been found yet.
The Federal President of Austria emphasizes that there is a justified hope for the reunification of Cyprus and should not be abandoned, because the hope for an end of the Berlin Wall for many years seemed utopian and unrealistic, but was achieved. He expresses his regrets to the interruption of the talks, but believes that with good will a reasonable negotiation process will once again begin.
The international situation was, in his opinion, very difficult in the 20th century as is difficult today, but he is optimistic that one can solve one problem after another, knowing that behind each resolved problem a new one arises, concludes the Federal President of Austria in his interview to AMNA.