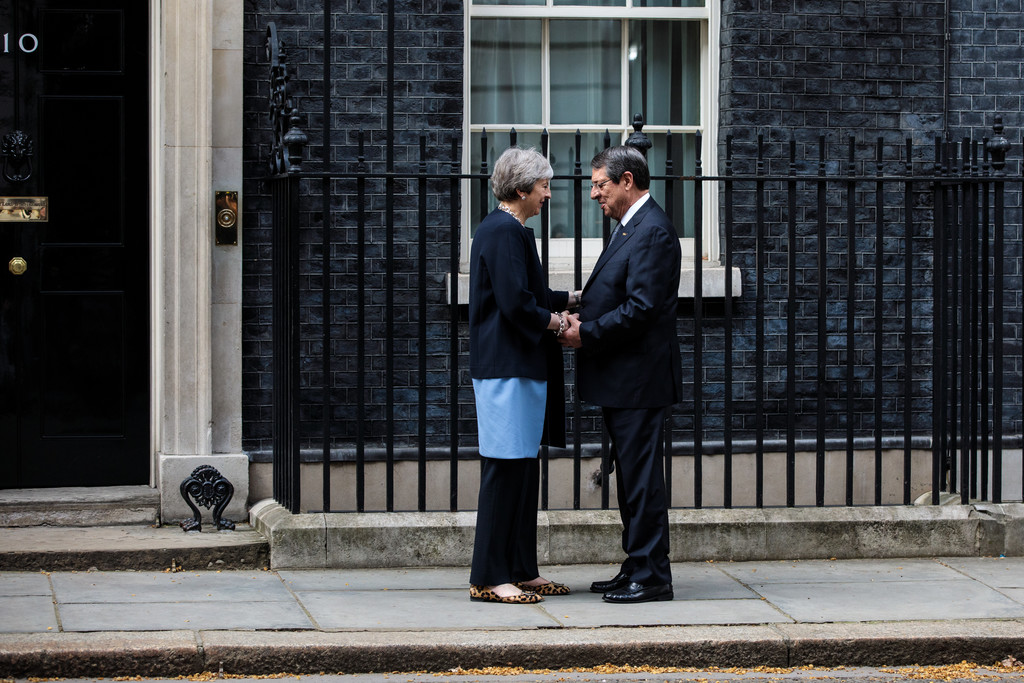 The President of the Republic of Cyprus Nicos Anastasiades and the Foreign Minister Nikos Christodoulides have reminded the UK Government of its responsibilities towards their country in a week-long visit to London.
The visit by both Cypriot politicians was organised in the framework of the Commonwealth Heads of Government Meeting (CHOGM) that took place in the British capital between 16-20 April.
On the sidelines of the summit President Anastasiades was received by Prime Minister Theresa May at 10 Downing Street.
Mr Anastasiades asked Mrs May to use the UK's good relationship with Ankara to urge the Turkish side to accept the resumption of settlement talks in a constructive spirit.
Mr Christodoulides held a meeting with the UK Minister for Europe Sir Alan Duncan, also asking for London's support in getting the negotiations restarted from where they were abandoned last summer during the Cyprus Conference in Switzerland's Crans Montana.
IBNA sources have confirmed that the British side repeated its stated position on the thorny issue of Security and Guarantees, that is that the UK is ready to accept whatever the other two guarantor powers and the two communities agree.
The Greek Cypriot side has accepted the unlikelihood of the UK Government abandoning its 'neutral' position and condemning the guarantees regime as anachronistic. That is despite reports that Foreign Secretary Johnson used the very same adjective during the summer talks.
However, Nicosia thinks that London could apply more pressure on Ankara, encouraged by the clear position repeatedly stated by the Foreign Office that the drilling in Cyprus's Exclusive Economic Zone should go ahead and that Turkey should refrain from actions that risk inflaming tensions in the Eastern Mediterranean.
IBNA understands that the UK Government is planning high-level talks with the Turkish government, talks that will most likely culminate in a visit by President Erdogan in London before the 24th June elections in his country.
During their presence in London, the Cypriot political leaders also managed to have included in the Joint Communique of CHOGM an explicit reference by all 53 Commonwealth member states' leaders to the need for respect of Cyprus's sovereign rights in its EEZ, "under international law, including the United Nations Convention on the Law of the Sea." The leaders also expressed their unequivocal support for the island country's "sovereignty, independence, territorial integrity and unity".
Cypriot FM Nikos Christodoulides at his meeting with the UK Secretary for Exiting the European Union, David Davis
A diplomatic source commented that the significance of such a statement may one day become obvious when fellow Commonwealth countries may be in a position that holds a decisive vote in other international fora, in cases where a balance of power between Cyprus and Turkey is on the line…. / IBNA
Main Photo: The Cypriot President Nicos Anastasiades with the British Prime Minister Theresa May outside 10 Downing Street