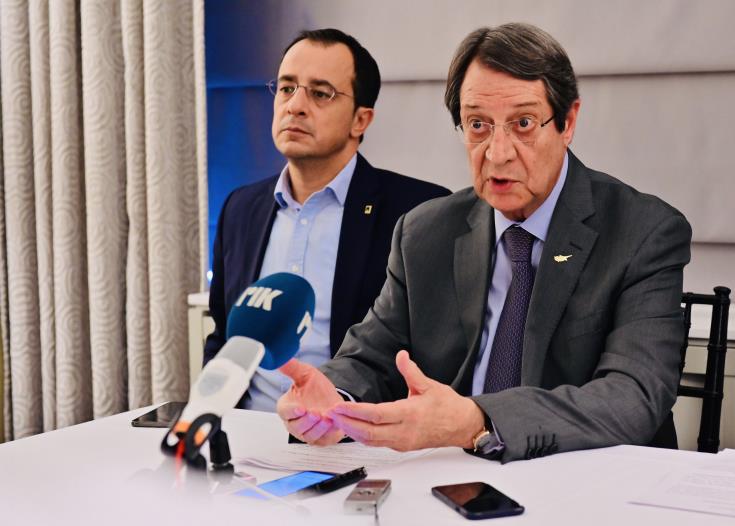 What he said when he arrived in the US on the terms of reference
By Michalis Michael
The President of the Republic, Nicos Anastasiades, who is in New York for the works of the UN General Assembly, will meet today with Chinese Foreign Minister Wang Yi, and later will meet with the leadership of the US-Jewish organization AIPAC.
Yesterday, President Anastasiades, in remarks on the Cyprus issue after his arrival in New York, said that it would not be our side that would cause the collapse of the UN Secretary-General's efforts. He added that a Conference on Cyprus cannot function at a time when international law is being threatened and violated, "with threats and violations of international law continuing".
"This year's General Assembly coincides with an effort by the UN to reach an agreement on the terms of reference to enable a creative dialogue to be resumed. I stand firmly, with full political will to contribute to what we have been looking for since the collapse of the talks in Crans Montana", the President of the Republic said. He estimated that this would be a week that each side would be tested, and stressed that "our side will not be the one to lead to the collapse of the SG's effort. What I want to emphasize is that I remain true to what we have agreed with Mr Akindzi on August 9 at the informal meeting, that I remain and adhere to what I have accepted, which is no other than the text that Mrs Lute prepared the first day", he said.
According to the schedule of his contacts, tomorrow, the President of the Republic, accompanied by his wife Andris Anastasiades, will attend a reception hosted by the UN Secretary-General for the Heads of State attending the General Assembly. Afterwards, the President of the Republic will have a bilateral meeting with the Prime Minister of North Macedonia Zoran Zaev.
Afterwards, President Anastasiades will attend a lunch hosted by the UN Secretary-General in honor of the Heads of State, and will attend the evening with his wife at a reception given by the US President and his wife. The President of the Republic will address the General Assembly on September 26, followed by a bilateral meeting with Russian Foreign Minister Sergey Lavrov, followed by a bilateral meeting with Indian Prime Minister Narenda Modi.
In the evening he will attend a dinner organized by the Federation of Cypriot Organizations of America. On September 27, President Anastasiades will meet with UN Secretary-General Antonio Guterres. He will then meet with Archbishop of America Elpidoforos at the Archbishop's residence. Then, the President of the Republic will have lunch with the Permanent Representatives of the five Permanent Members of the United Nations Security Council.
During his contacts in New York, President Anastasiades is accompanied by Foreign Minister Nikos Christodoulides, the Government Spokesman, Prodromos Prodromou, the Permanent Representative of the Republic of Cyprus to the United Nations , Andreas Mavrogiannis, and other government officials.
The President of the Republic will return to Cyprus on September 29./ibna