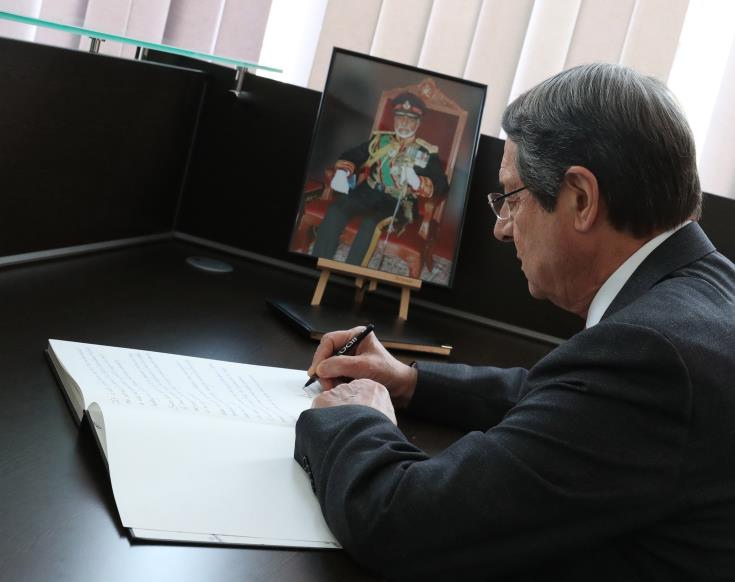 The President of the Republic of Cyprus Nicos Anastasiades signed today the book of condolences for the passing away of the Sultan of Oman Qaboos bin Said al Said, at the Embassy of Oman in Nicosia.
In his remarks to reporters before signing the book of condolences, the President said that "I express my deepest condolences for the death of the Sultan of Oman, a country with which we share very friendly relations, as we do with the rest of the Arab countries."
In the book of condolences, the President wrote the following:
"It is with profound sorrow and grief that we have received the sad news of the demise of His Majesty Sultan Qaboos bin Said, a wise and moderate leader, a patriot of unique vision and a leading voice of peace, dialogue and mutual understanding.
Sultan Qaboos devoted His life to the development and the well-being of Oman and its people, leading the transformation of Oman into a modern and prosperous state and working tirelessly to promote peace and stability in the region and beyond.
Under His inspiring and visionary leadership, Oman has emerged as a peaceful and progressive country, earning the respect of the Omani people and the whole world.
On behalf of the Government and the people of the Republic of Cyprus, I wish to extend to the Royal Family, the Government and the friendly people of the Sultanate of Oman our most heartfelt condolences."/ibna