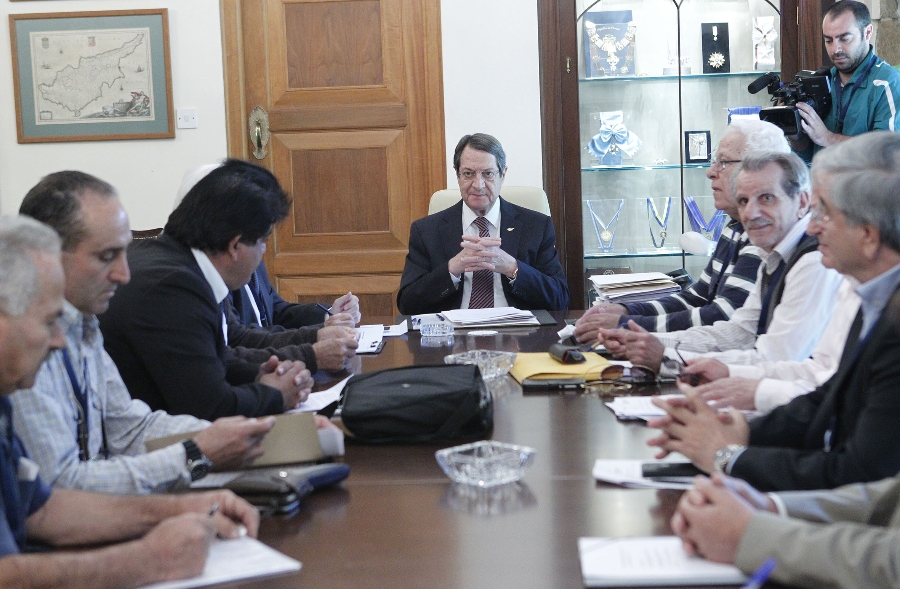 The President of the Republic of Cyprus, Nicos Anastasiades, received a delegation of the Pancyprian Occupied Territories Owners Association (PASYPEKA) at the Presidential Palace today.
After the meeting, PASYPEKA President Giorgos Matthew told reporters that "we have put before the President the situation, which has been in existence for 43 years, and the fact that no program from any government included the land owners. We have said that the property problem is the essence of the Cyprus problem and if we lose the properties, we have a turkification".
As Mr Matthew said, the President of the Republic has realized and is well aware of the importance of the properties of the occupied areas, adding that a meeting with the Minister of the Interior has already been scheduled for Monday, November 6, where issues, problems and their progress will be discussed.
In a related question, Mr Matthaiou said that the most important problems for them are that "in 43 years we haven't even seen a penny as income from our property", stressing that their requests are "the recognition of the value of the Turkish-occupied properties, recognition and restoration of the loss of use of the Turkish-occupied properties, an equitable distribution of the burdens resulting from the 1974 invasion, direct legislation on the recovery and redistribution of all Turkish Cypriot property, creation of a body/committee for the Greek Cypriot occupied properties, with the creation of a parallel fund for the displaced owners and restoring the dignity of the displaced owners by cementing their obligations to the Equitable Weight Distribution Agency, the banks and the State until the beginning of the restoration of the loss of use"./IBNA
Photo: pio.gov.cy