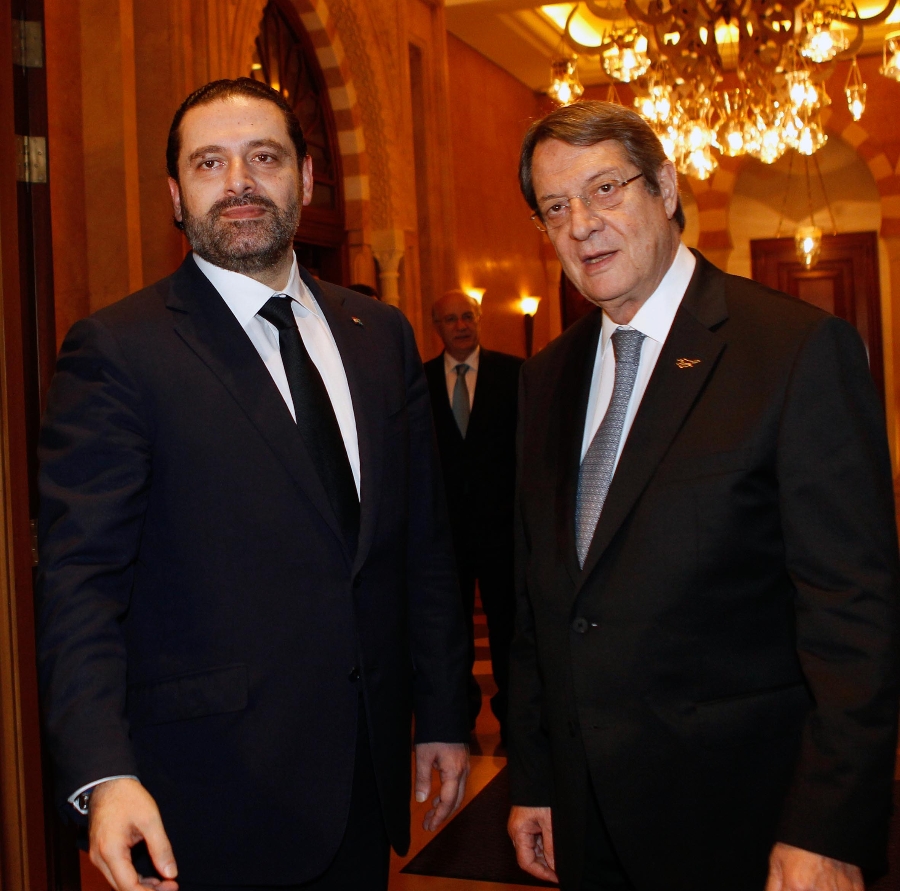 The President of the Republic, Mr Nicos Anastasiades, met yesterday evening with the Prime Minister of Lebanon, Mr Saad Hariri, at the Residence of the Prime Minister, in Beirut.
The meeting was followed by a dinner hosted by Mr Hariri and attended by the members of the Cypriot delegation.
During the meeting issues pertaining to bilateral relations between the two countries, energy, regional developments, the Cyprus problem and EU-Lebanon relations, were discussed.
Also discussed were ways to further improve the transport connection between Cyprus and Lebanon with emphasis on ferry connections.
The two parties also discussed issues relating to the cooperation between the two countries in providing assistance to each other in extinguishing fires as well as cooperation concerning the further promotion of issues of mutual interest in the very near future.
The trilateral mechanism between Cyprus – Greece – Lebanon, the first meeting of which will take place in Cyprus before the end of 2017 as it has been announced recently by the President of the Republic, was also part of the agenda at the meeting.
Cyprus Foreign Minister had a meeting with his Lebanese counterpart
The Minister of Foreign Affairs, Mr Ioannis Kasoulides, had a meeting yesterday in Beirut with the Minister of Foreign Affairs of Lebanon, Mr Gebran Bassil, within the framework of the President of the Republic's official visit to Lebanon.
During the meeting the two interlocutors discussed the practical implementation of the areas of cooperation as these had been set during the meeting of the Presidents of Cyprus and Lebanon.
They also discussed EU-Lebanon relations, with Mr Kasoulides noting the Cyprus Government's readiness to support Lebanon through the provision of expertise in various sectors.
Moreover, views were exchanged on regional developments. Mr Bassil expressed gratitude for the assistance that the Republic of Cyprus is providing to the Lebanese Armed Forces vis-à-vis the fight against terrorism.
Lastly, discussions focused on the preparation for the trilateral meeting between Cyprus, Lebanon and Greece, which is expected to take place this year in Nicosia./IBNA