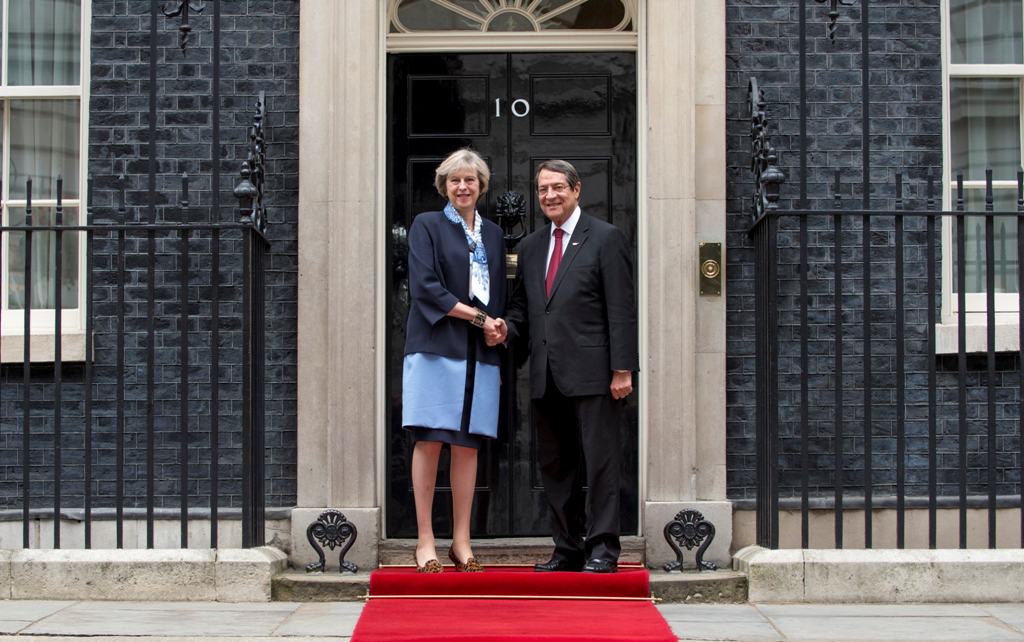 The President of the Republic of Cyprus, Nicos Anastasiades, met on Wednesday evening with British Prime Minister Theresa May at the Prime Minister's Office in London.
The President of the Republic, who is in the British capital to participate in the works of the Commonwealth Summit, was accompanied at the meeting by the Minister of Foreign Affairs, Nicos Christodoulides, the Government Spokesman, Prodromos Prodromou, and government officials.
Welcoming President Anastasiades, May referred to the long and very close ties between Cyprus and the United Kingdom, noting that "we want to continue and strengthen them".
For his part, the President of the Republic referred to the close relations of the two countries and the desire for cooperation during the Brexit talks, while he also referred to the active Cypriot community in Britain.
Referring to the Cyprus problem, Anastasiades said that it is shameful to exist after 45 years.
He added that "we look forward to developing and strengthening our relations and cooperation which have already been greatly strengthened in recent years".
In his statements to the reporters after the meeting in the Prime Minister's Office, the President said that "the meeting with the British Prime Minister was very useful because the opportunity was given to develop and highlight the problems we are facing in the efforts to solve the Cyprus problem. I informed her of yesterday's (Tuesday) dinner. However, beyond the Cyprus issue and the help I have requested due to the good relations (Britain's) with Turkey, in order to intervene to put an end to the illegal actions of Turkey, we had the chance to talk about Brexit. I think we are on the right track with regard to the Cyprus-UK-EU agreement and at the same time also for the further strengthening of bilateral relations which, I must say, have been improving and developing over the last few years.
Of course, we also talked about the situation in the Middle East and especially the actions against Syria. We have developed some issues which I think it would not be right to speak of publicly"./IBNA
Photo: pio.gov.cy