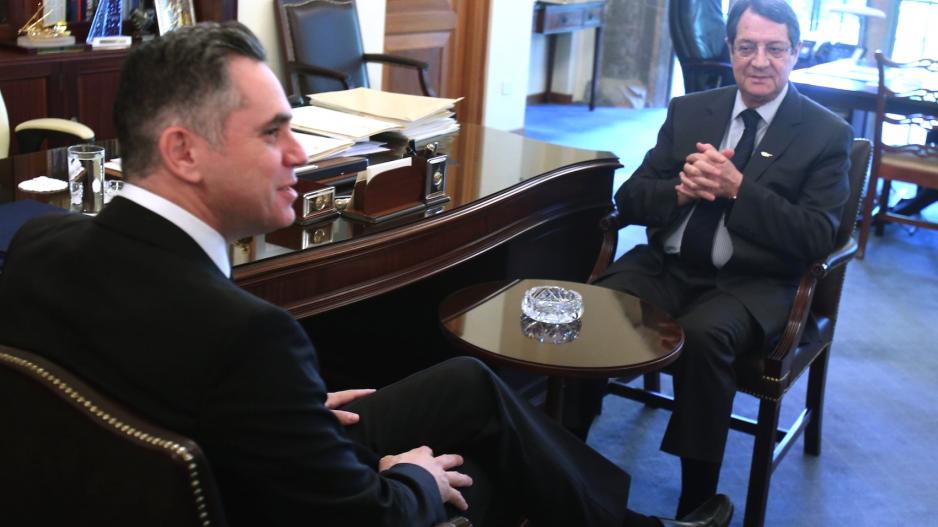 President Nicos Anastasiades had separate meetings with the President of DIKO, Nicholas Papadopoulos and the President of EDEK, Marinos Sizopoulos, at the Presidential Palace today.
In his statements to the press at the Presidential Palace after the meetings, the Government Spokesperson, Prodromos Prodromou, said that the meetings were held on the basis of Papadopoulos' proposals, which were included in his pre-election program and submitted to the President of the Republic after his re-election.
He added that "the President of the Republic informed the two political leaders about his meeting with the Turkish Cypriot leader Mustafa Akkinji at the 16th of April dinner, but he also had the opportunity to talk with them on issues of internal governance and especially about the changes needed in the state and in general for measures that Cypriot society expects after the Presidential Elections.
The President expresses his satisfaction for the conversation he had with both Mr Papadopoulos and Mr Sizopoulos. There may be political differences, but there is a willingness to cooperate, and there is an understanding that for some common goals, which had been clarified, and through the dialogue that took place in the electoral campaign, there should be cooperation, so as to make decisions that the citizen expects for the modernization of the state and the creation of a better functioning of the political system, either through reforms or through social measures or through measures concerning more specific categories of social groups, such as in mountainous areas".
Asked if the subject of the "red" loans was discussed, the spokesman said "definitely. It is all these issues on the issue of dealing with problematic loans that have already been the subject of meeting of political leaders, where a broad consensus has been expressed".
He added that "the process is under study, all preparatory work is being done by the ministry in discussion with all stakeholders, and of course dialogue at the level of party meeting will continue. The important thing is that there is a common understanding and consciousness that for some problems we have to work together and it is not a matter of imposing the decisions of one or the other. At this level the President of the Republic declares his satisfaction that now, after the presidential elections, is the time and the citizens expect to see specific actions from the whole political system".
In a question on the Cyprus issue, the spokesman said that "what can be expected next is some initiatives from the United Nations. Otherwise, we should expect the Turkish side to respond to the President's position that the dialogue should resume".
Asked if there will be a special UN envoy for the Cyprus issue, the spokesman said that "we do not have that in mind, we do not have any information. We expect to see if there will be some moves".
Asked whether the United Nations has asked the Republic's opinion on this issue, he responded negatively.
He added that "we believe that the position of the President is given and positive. Apart from that, the President can not do anything more on his own. Perhaps there can be continuity despite the fact that there are a number of factors, namely the international conjuncture with Turkey's behavior, there are the elections that have been proclaimed in Turkey and in this setting there may be some news of a UN initiative"./IBNA