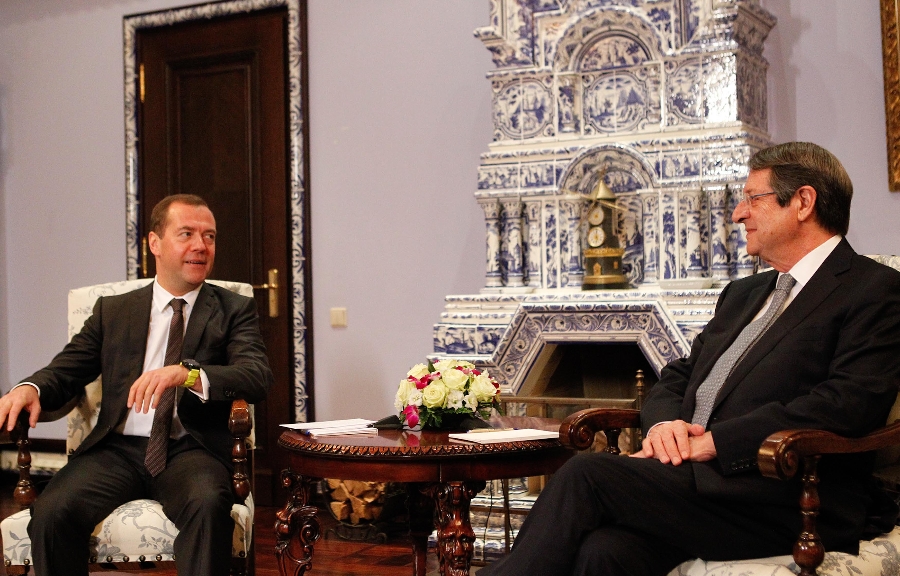 The President of the Republic, Nicos Anastasiades, who is paying a two-day working visit in Moscow at the invitation of the President of the Russian Federation, Mr Vladimir Putin, met in the afternoon today, with the Russian Prime Minister, Dmitry Medvedev, at his country residence near Moscow.
At their private meeting, Prime Minister Medvedev said, inter alia, to President Anastasiades that "it is your third visit to our country during your tenure as President, something that we appreciate a lot because Cyprus is an important and reliable partner of Russia.
We have a beneficial cooperation between our Governments and between the business communities, and the cultural dialogue is also growing actively and this is a great joy for us.
And this time, important bilateral documents will be signed and that is why we consider your visit a good opportunity to talk together and exchange views. You will of course have very important talks with the President of Russia, Vladimir Putin.
Now we will discuss the basic issues of the agenda, which is not small."
On his part, President Anastasiades said that "I express my special satisfaction because, during a tenure of five years, it is my third visit to your country, a visit that symbolizes many things: The historical bonds that link us throughout the years, the appreciation and gratitude that the people of Cyprus feel toward Russia for its support over the years with regard to the Cyprus problem, which unfortunately, still exists.
But, our relations are not confined only to the positions of principle of the Russian Government; there are also the relations and the similarities that we have as peoples, either historical or religious or cultural, something that is enhanced also with the relations between the two Governments through a series of interstate agreements or memoranda of understanding, and with tomorrow's agreements that will be signed, there will be a total of 67 agreements, something that demonstrates how closely we cooperate in many sectors.
At the same time, I must refer to the economic support that Cyprus has through the presence of Russian businesses and also from the number of tourists from Russia that equal the number of our country's population."
Following the private meeting, expanded talks took place in the context of a working dinner, during which many issues were discussed including the economy, bilateral relations and the EU-Russia relations; there was also a briefing on the latest developments concerning the Cyprus problem.
The President Anastasiades was accompanied by the Ministers of Foreign Affairs, Finance and Transportation, as well as by the Government Spokesman./IBNA
Photos: pio.gov.cy