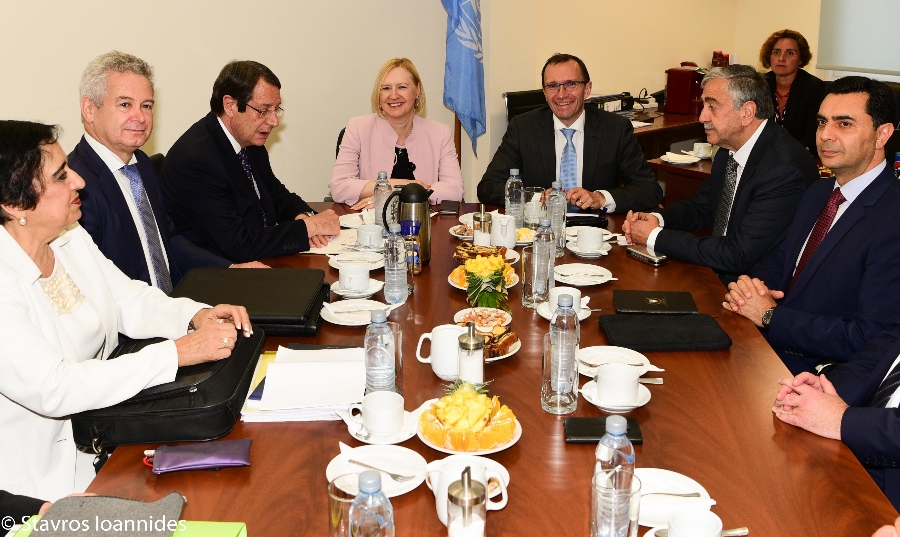 We do not rule out the possibility of a new Conference on Cyprus in Geneva, provided that we will be well prepared, the President of the Republic of Cyprus, Nicos Anastasiades, stressed yesterday evening, after his meeting with the leader of the Turkish Cypriot community, Mustafa Akinci.
Speaking to journalists upon his return to the Presidential Palace, the President of the Republic, invited to say how the meeting went, said that the climate (between him and Mr Akinci) was better than the results. "It was an extensive discussion on a series of issues. We agreed that the negotiators will continue to look further on how more convergences could be achieved. We will reevaluate the whole course at the meeting on the 17th of this month.
At the same time, we had the opportunity to be briefed on today's meeting with the international financial institutions, etc, on the issues of the economy. In general, I must say that the climate was good, but this alone is not enough", the President of Cyprus said.
Asked about the ideas that the UN is considering to submit before the leaders, in order to examine the intentions, and whether such ideas are related to the process somehow, the President of the Republic highlighted: "I have not seen any change in the ideas that I was aware of. The issue is the methodology of the discussion. But if there is no will to move away from positions, which create problems, I do not think it is the methodology that is missing".
Asked whether all chapters were discussed in yesterday's meeting, President Anastasiades said that this was not possible, adding that the chapters of property and governance were discussed, as well as the first day after the achievement of a solution.
Invited to say what are the expectations for the meeting on the 17th of May, given that it is the last one of this round, the President of the Republic said that "on the 17th of May, we will reevaluate the whole course, the outstanding issues and the way forward".
Asked if he and Akinci discussed the issue of energy planning, as put forward by Eide, the President of Cyprus replied negatively and added that this issue was discussed with Eide (in their separate meeting).
Finally, replying to a journalist's comment that in New York Eide had referred to a new Conference in Geneva and whether this issue was discussed at the meeting, President Anastasiades underlined: "We do not rule out a new Geneva. However, we must go well prepared. Is Turkey ready to discuss the issues of guarantees, security, etc?" President Anastasiades went on stressing that we do not want to attend a new Conference and "at the end of the day, return without any results or, possibly, an impasse, which will be worse than a well prepared meeting. What we aim for is to find a solution, not a way to terminate the dialogue"./IBNA
Photo: pio.gov.cy