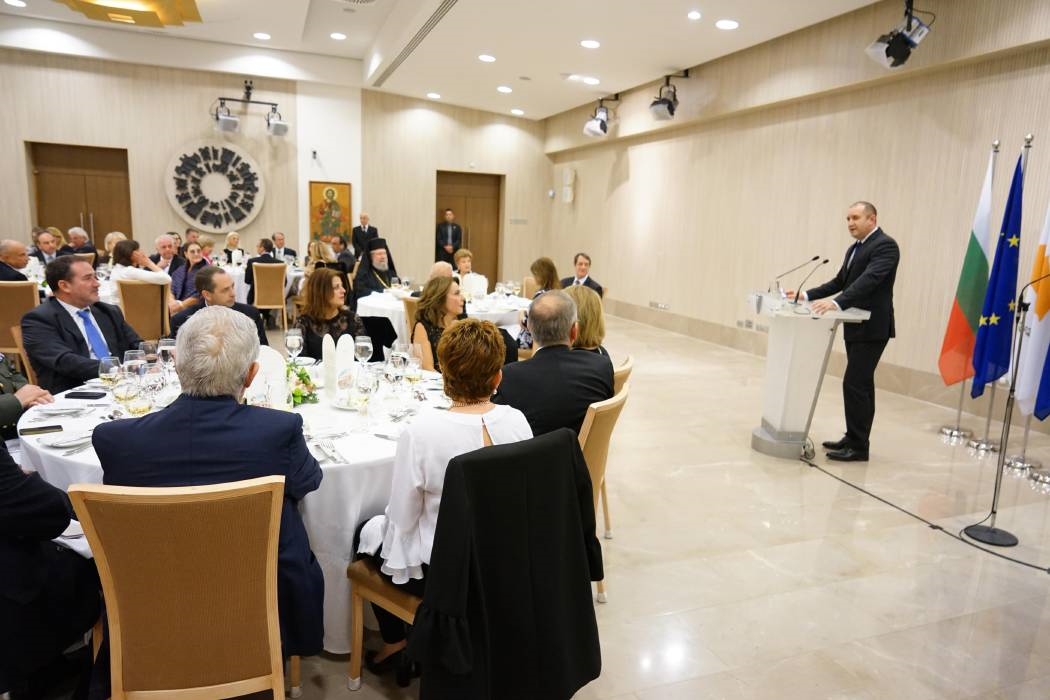 The President of the Republic of Cyprus, Nicos Anastasiades, hosted Monday evening, at the Presidential Palace, an official dinner in honour of the President of Bulgaria, Rumen Radev, who is paying an official visit to Cyprus.
Speaking at the dinner, President Anastasiades said that "it is a truly great pleasure to welcome the President and the First Lady of Bulgaria to Cyprus, and for me and my wife to be given the opportunity to reciprocate the excellent and warm hospitality that was extended to us during my official visit to Bulgaria in February 2016.
This exchange of visits at the highest level reflects the closeness of the relationship between Cyprus and Bulgaria, which is based on shared values and on historical bonds of friendship, both at the government level, but also at the people's level.
As our bilateral relations have been evolving in recent years, President Radev's visit certainly provides further momentum to our joint commitment to strengthen our ties in an array of fields, including shipping, commerce, energy, education and culture, and to expanding our cooperation even further at the EU level, and in international fora.
Undoubtedly, the presence in Cyprus of a sizeable and vibrant Bulgarian community, whose invaluable contribution has enriched our country's society and economy during the last few decades, serves as an additional active link between the two countries.
I would like to assure you, Mr President, that Cyprus and its people will continue to offer the best hospitality to the members of the Bulgarian community, just as the Bulgarian people offered their warm hospitality to thousands of Cypriots during the difficult years that followed the Turkish military invasion of 1974 – an act of solidarity for which we are truly grateful.
I firmly believe, that the frank and fruitful discussions we held this morning were most beneficial and pave the way for enhanced bilateral cooperation, but also for specific ways in which to improve synergies between Cyprus and Bulgaria within the European Union.
I would like to take once again the opportunity to thank you, Mr President, for your personal interest and for the strong support of Bulgaria to our efforts for achieving the reunification of our country. A reunification that must lead to a functional, viable and truly sovereign and independent state."
On his part, President Radev said, among other things, that "we are very satisfied from today's conversation. We have covered a lot of interesting and important topics regarding our bilateral cooperation."
He added that "I strongly believe we have a common future and this strong belief comes not only form the political declarations. We will continue to stay together, supporting each other in enforcing stability in our regions, in developing economic and energy projects, as well as projects regarding science, education and culture."
Referring to the Cyprus problem he said that "you can fully count on us for working together for achieving a stable and just solution for the Cyprus issue. Bulgaria will continue its consistent and stable position about this issue base on UN resolutions and more importantly for the interests of the people of Cyprus."
He added that what he witnessed today in Cyprus highly exceeded his expectations with the Cypriots and Bulgarians sharing strong relations together.
Concluding, President Radev said that earlier today he attended a ceremony where a street in the area of Lakatamia was named after the Bulgarian national her Vassil Levski, and thanked the Mayor and the Municipal Council of Lakatamia for making this decision./IBNA
Photo: pio.gov.cy