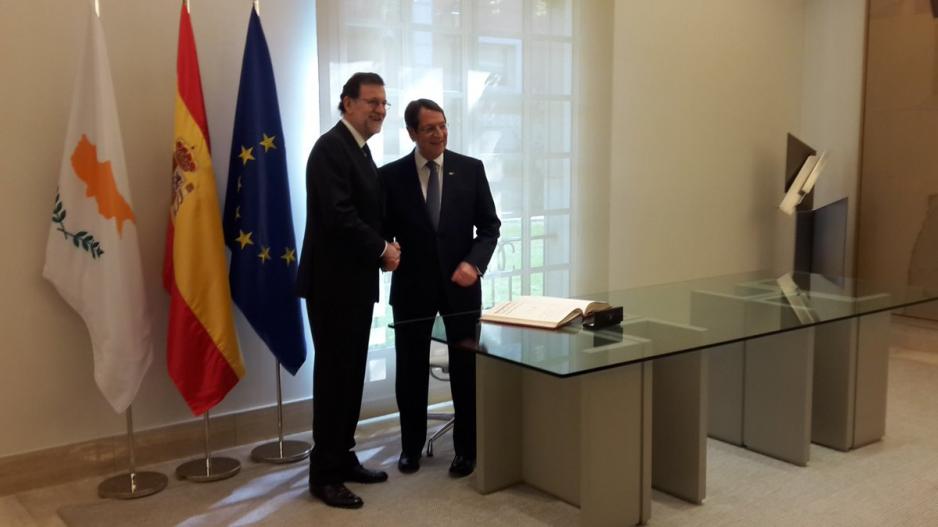 President of the Republic of Cyprus, Nicos Anastasiades, had last night a long telephone communication with the Prime Minister of Spain, Mariano Rajoy.
President Anastasiades expressed the full support and solidarity of Cyprus to the Prime Minister of Spain and his government in the efforts he is making for a united Spain and against the secessionist efforts of Catalonia.
President Anastasiades assured the Prime Minister of Spain that he fully understands the need to maintain the constitutional order of Spain and that Cyprus will offer its firm support towards the Spanish Government both within the EU and at the UN, as well as in any other international fora, in which Cyprus participates.
President Anastasiades briefed Prime Minister Rajoy on the latest developments of the Cyprus problem, and the Spanish PM assured President Anastasiades that the Spanish Government strongly supports his efforts to find a solution to the Cyprus problem based on the principles of the EU and the decisions of the UN.
The President of the Republic and Mr Rajoy also agreed on the postponement of the scheduled Meeting of the leaders of the southern EU states, which would have taken place in Nicosia on 9 and 10 October, in view also of the crucial discussions that are currently taking place in the EU for the Future of Europe.
They also agreed that the MED7 Summit takes place in Nicosia in the first ten days of December./IBNA