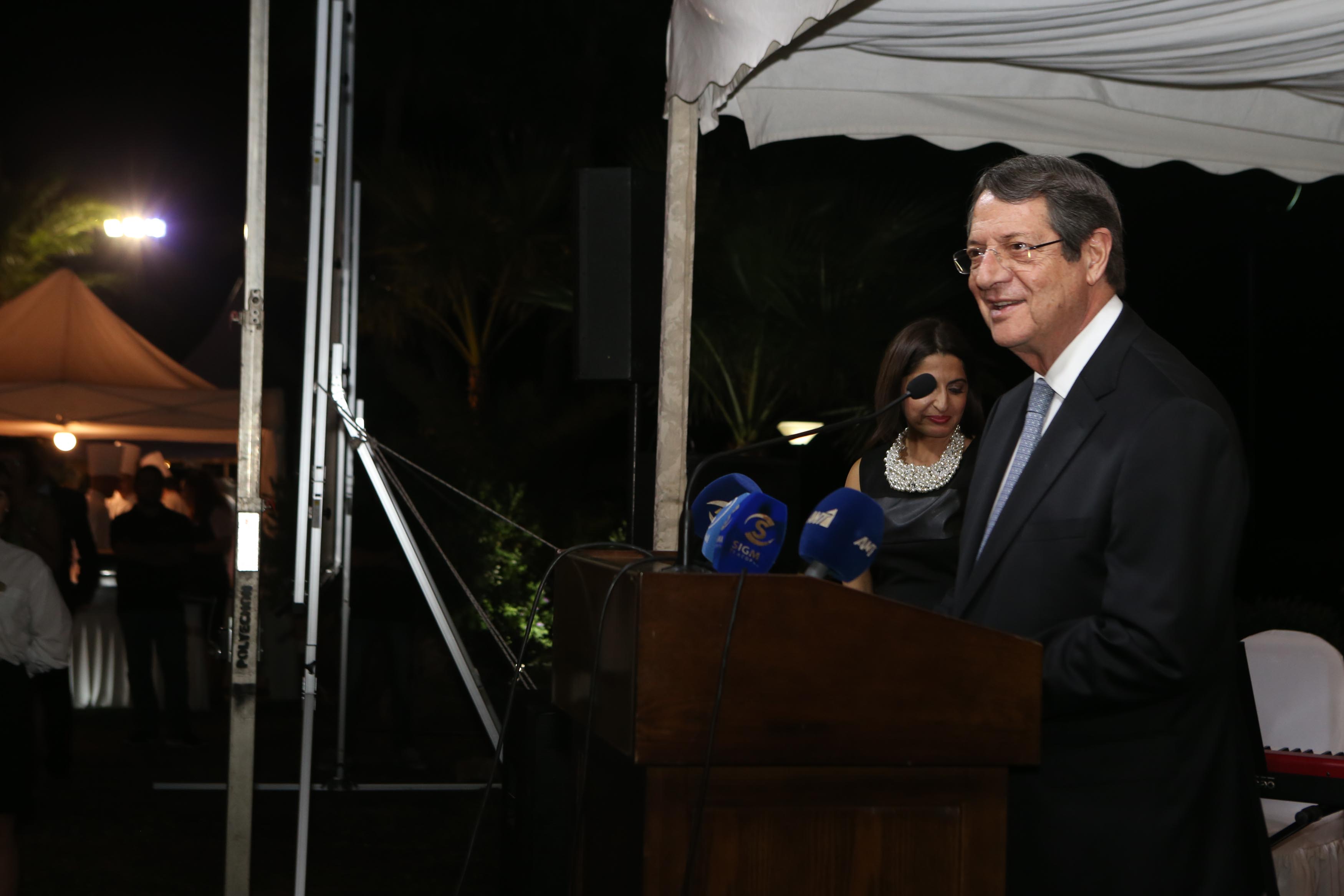 President of the Republic of Cyprus, Nicos Anastasiades, addressed a reception at his hometown, Limassol, on the occasion of the Maritime Cyprus 2017 conference, which begins on Monday in Limassol under the general title Shipping: Yesterday's World, Tomorrow's Today.
In his address at Limassol, the president expressed his firm support to shipping and shipowners flying the Cyprus flag, pointing out that "the shipping sector has been catalytic towards the steady recovery of the Cyprus economy, with a contribution of approximately 7% to the Growth Domestic Product, acting as a gateway of foreign investments to our island". Mr Anastasiades further noted that the new under secretariat for shipping will strengthen the efforts made.
"We are well aware of the fact that the Cyprus shipping sector operates in a continuously evolving and highly competitive global environment, and this, in turn, requires stability and innovative forward-planning which supports long-term planning and investment", the President stressed, expressing the continuous efforts to strengthen Cyprus' competitiveness by promoting, among other, strategic reforms.
To this end, President Anastasiades expressed satisfaction over the decision to set up a shipping under secretariat in March 2018, which would work closely with the private sector and would enhance efforts to attract more shipowners and companies.
During the reception in Limassol, Anastasiades awarded the Cyprus Maritime Award 2017 to MSC Shipmanagement Ltd.
The three-day Cyprus Maritime 2017 conference will be opened by Anastasiades on Monday and will be attended by more than 800 delegates from around 35 countries, including European Commissioner for Transport Violeta Bulc, European officials, shipowners, and CEOs of international shipping organisations and companies.
A Maritime Services Exhibition will be open alongside the conference. It will be opened On Monday by Transport Minister Marios Demetriades.
On Wednesday, Commerce Minister Yiorgos Lakkotrypis will speak at a panel discussion on geopolitical developments with his Egyptian counterpart./IBNA
Photo: pio.gov.cy