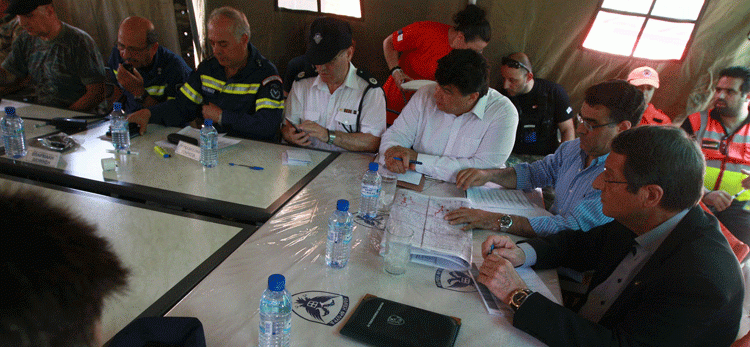 Nicosia, June 21, 2016/ Independent Balkan News Agency
CNA
Cyprus President Nicos Anastasiades has appealed to everybody to think of the common good, respect the environment and human life, saying that the fire raging since Sunday is "an unprecedented disaster".
"It is high time we all think of the common good, think not only of ourselves but also of others, the environment and human life," President Nicos Anastasiades has said.
Speaking following his visit to the villages affected by the huge fires raging in Solea region since Sunday and after a meeting he chaired with local councils and state services and departments, the President said that "in such times, our thoughts go out to the families of the firefighters who lost their lives battling to out the blaze."
He assured that the state will stand by their side. The President extended his congratulations to all those who are fighting hard to extinguish the fire and face such an unprecedented disaster.
"What is very moving is the fact that volunteers have rushed to the area and are working very hard to provide assistance to those in need," he said, noting that around 150 volunteers are at the different fronts of the fire.
According to the President, all the competent services and departments are operating under IKAROS scheme which provides for the operation of aerial means while at the same time, firefighters with vehicles are battling the flames.
Sixteen aircraft from Cyprus and abroad are now operating. In the afternoon 3 aircraft from France and one from Italy are expected to land on the island to assist.
President Anastasiades pointed out that what is most important right now is to save human lives and the environment, expressing the hope that soon the fire will be put under control.
He also said that tomorrow the Cabinet will convene and discuss the situation.