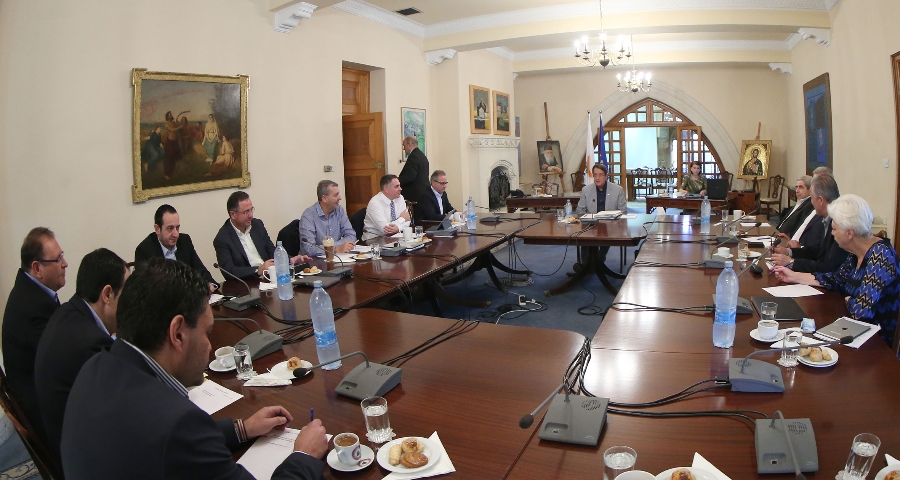 The President of Cyprus, Mr Nicos Anastasiades, presided, today, over a meeting of the National Council, at the Presidential Palace.
After the meeting, the Deputy Government Spokesman, Mr Viktoras Papadopoulos, told reporters that "today, the President of the Republic extensively briefed the leaders of the political parties on everything that took place since the last meeting of the National Council, in the negotiation process (on the Cyprus problem), and beyond".
He added that at today's meeting "there was also an exchange of views and the international and regional environment, within which the talks currently take place was analyzed. Positions, views, concerns, but also suggestions, were expressed".
He noted that "there was an exchange of views and a dialogue with regard to the upcoming talks on the Territorial issue, in Mont Pèlerin, Switzerland; the members of the National Council also discussed the position of the Greek Cypriot side on issues that might arise at the talks in Switzerland".
The Deputy Spokesman also said that "following the exchange of views today, the President of the Republic decided that he will not be accompanied to Mont Pèlerin by the members of the National Council, but only by the members of his negotiating team and his close associates".
Replying to a question as to whether there is a possibility the issue of Guarantees to also be discussed in Switzerland besides the Territorial issue, Mr Papadopoulos said that this issue was made clear in New York as well, (at the President's September meeting with the UN Secretary General and the Turkish Cypriot leader), and the moves, the tactics and the strategy that were followed during all this interval were convincing also in New York, in that the two issues will be discussed separately.
He added that "in Mont Pèlerin, as stated in the announcement of the United Nations, there will be a discussion mainly on the Territorial issue, but also on some other open issues, some other points and disagreements that exist on other issues"./IBNA
Photo: pio.gov.cy