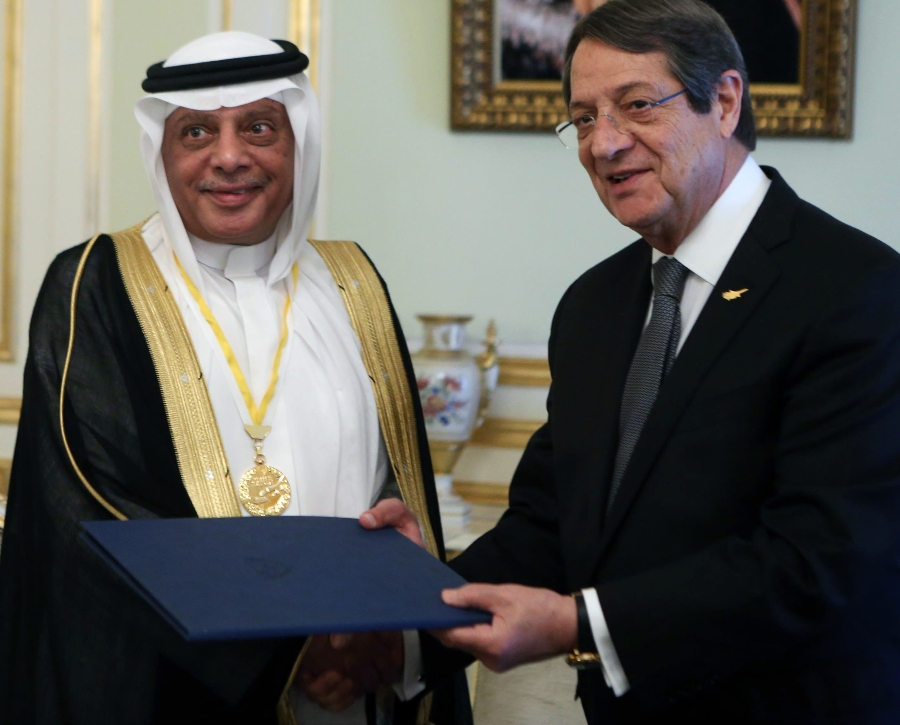 At a special ceremony held today in Riyadh, the President of the Republic of Cyprus, Nicos Anastasiades, who is holding the first official visit of President of the Republic to Saudi Arabia, today awarded the Honorary Consul of the Republic to Mohamed Abdulkader Al Fadl, the Exceptional Offer Medal.
Speaking at the ceremony, the President of the Republic said, inter alia, that the award of the Medal is an indication of the recognition and gratitude of the Republic of Cyprus for the valuable contribution of the Honorary Consul for two decades in the further promotion of Cyprus – Saudi Arabia relations.
President Anastasiades also referred to the offer of the Honorary Consul to the Cypriot community in Saudi Arabia, as well as the promotion of tourism and business relations between the two countries.
"In recent years, we have been working to strengthen relations between Cyprus and the Kingdom of Saudi Arabia. The creation of a diplomatic mission in Riyadh and my official visit – a historic visit since it is the first official Cypriot President in the country – is a milestone in the relations between our countries", President Anastasiades said.
He added that Cyprus wants to contribute through the many Cypriot companies that are successfully operating in Saudi Arabia, in the country's "Vision 2030".
For his part, the Honorary Consul said, among other things, that he was happy for the occasion of the historic visit of the President of the Republic to his country, noting that it was something he had been waiting for many years.
Finally, he assured that he would continue to give his all with the aim to further strengthen the bilateral relations between Cyprus and Saudi Arabia./IBNA
Photo: pio.gov.cy