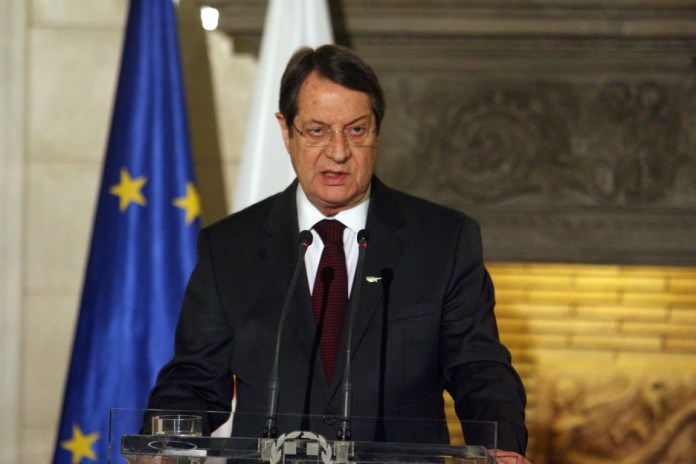 Nicosia, October 14, 2016/Independent Balkan News Agency
By Spiros Sideris
In his remarks to reporters, following his return to the Presidential Palace from the site of the talks on the Cyprus problem, the President of the Republic, Mr Nicos Anastasiades, said that "it was a productive discussion; the issues for effective participation and the decision-making process in the various Committees, as well as the quotas were discussed.
The second was the Mixed EU Committee and the decision- making process, so that the state can function effectively and make decisions on time with its participation in the EU.
The third are issues regarding the composition and operation of the police at a federal level and at constituent state level. I ought to say that there was an agreement.
And finally, there remain certain other aspects that were referred to the interlocutors so that there can be a full agreement on everything that I have mentioned."
Asked to clarify his reference about an agreement, the President said that "there was significant progress on the issues for effective participation and the decision-making process in the various organs of the state, Committees and Regulatory Authorities, as there was also significant progress on the Mixed Committee that will undertake the issues which pertain to the European and broader policy that the state will follow so that there will be no gaps appearing."
In response to a question whether we also expect initiatives from other countries about the external aspects of the Cyprus problem, the President said that "yes, there seems to be interest by some Permanent Members of the Security Council, which are of course welcome. I believe that every effort for involvement in a perfectly justified demand of the Greek Cypriot side, which does not of course hurt at all the security of the Turkish Cypriots, is very useful."
Asked whether great obstacles remain in the three chapters that are discussed now, the President said that "we will exhaust ourselves in order to find a solution as long as there is also positive response on the part of Turkey on the chapters that concern her and in which it plays a leading role."