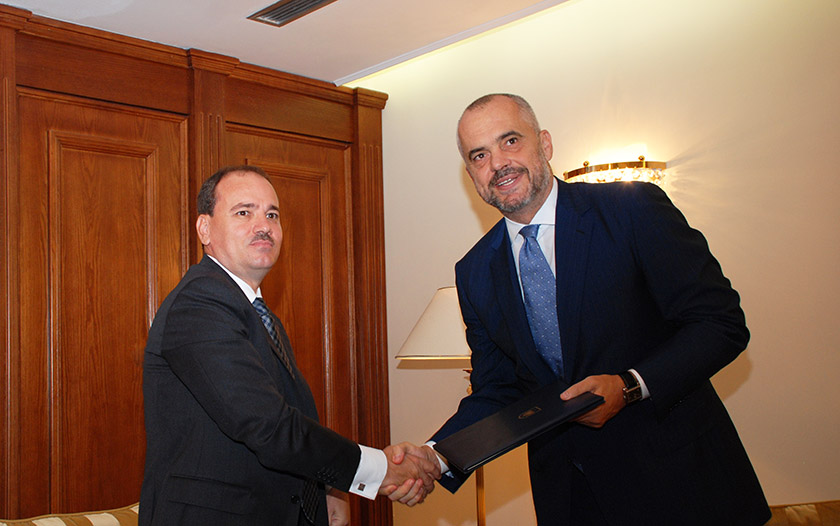 Tirana, September 11, 2013
President of the Republic of Albania, Bujar Nishani decreed on Wednesday the new Albanian government with Edi Rama as Prime Minister.
The new government will have one deputy Prime Minister and 19 ministries. The previous governing cabinet of Sali Berisha had three ministerial portfolios less.
The new government has six women and 5 ministers of the Socialist Movement for Integration. Three of them were ministers in the past four years even in Berisha's government.
In the coming days, the new Prime Minister will present the four year governing program and after it's voted in parliament, the government will swear in front of the President of Republic.
Below you will find the full composition of the Council of Ministers.
Prime Minister-Edi Rama
Deputy Prime Minister-Niko Peleshi
1-Minister of Finance-Shkelqim Cani
2-Minister of Interior-Sajmir Tahiri
3-Minister of Defense-Mimi Kodheli
4-Minister of Foreign Affairs-Ditmir Bushati
5-Minister of European Integration-Klajda Gjosha
6-Minister of Justice-Nasip Naco
7-Minister of Economic Development, Commerce and Enterprise-Arben Ahmetaj
8-Minister of Energy and Industry-Damian Gjiknuri
9-Minister of Transport and Infrastructure-Edmond Haxhinasto
10-Minister of Urban Development and Tourism-Eglantina Gjermeni
11-Minister of Agriculture, Rural Development and Administration of Waters-Edmond Panariti
12-Minister of Health-Ilir Beqja
13-Minister of Education and Sport-Lindita Nikolla
14-Minister of Social Welfare and Youth-Erion Veliaj
15-Minister of Culture-Mirela Kumbaro-Furxhiu
16-Minister of Environment-Lefter Koka
17-Minister for Relations with Parliament-Ilirian Celibashi
18-Minister for Innovation and Public Administration-Milena Harito
19-Minister for Local Government Affairs-Bledi Cuci