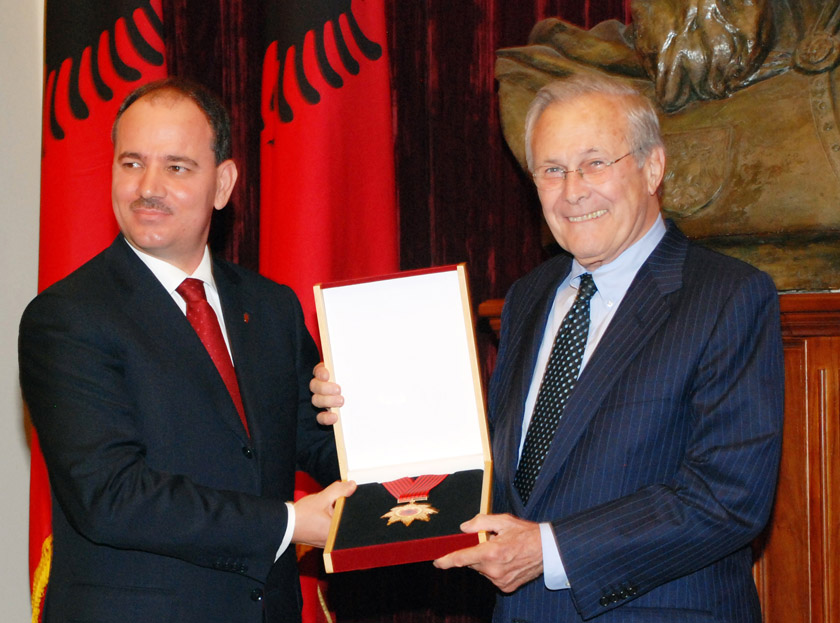 Tirana, June 17, 2013
The President of the Republic of Albania, Bujar Nishani awarded to the former US Secretary of Defense, Donald Rumsfeld the high Medal of National Flag (photo) with this citation: "As a sign of gratitude and appreciation for the extraordinary contribution and for the powerful support as well provided by him and the United States to the reformation, strengthening and modernization of the Albanian Armed Forces and to the process of Albania's accession in NATO."
From the outset of his remarks, President Nishani expressed the deep gratitude to the United States and stressed that the gratitude for this country is inextricably connected also to the great personalities of the United States, to the sons it gave birth and bred and called former-Secretary Rumsfeld in this framework a great friend of the Albanians.
During his greeting remarks, the Head of State pointed out that the huge support provided by Mr. Rumsfeld to Albania's accession in NATO is already part of the historical gratitude and memory of the Albanians.
"The United States of America have been close to Albania and Albanians ever since the very first moments of the founding of the Albanian state and following the efforts of Albanians to achieve democratic transformation and consolidate democracy, their efforts for reforms, NATO accession, liberation and independence of Kosova all the way to consolidation of Albania." – emphasized President Nishani.
While conveying the congratulations of the entire American nation for what Albania has done and accomplished through these years, former US Secretary of Defense, Donald Rumsfeld expressed to President Nishani the gratitude for this great honor and added that he would not resist the temptation to wear this medal all day long and to always cherish it in his mind and heart.
Former Secretary Rumsfeld emphasized also that the values brought by Albania to NATO are extraordinary because they helped all its members and they are values recognized and appreciated by the United States.