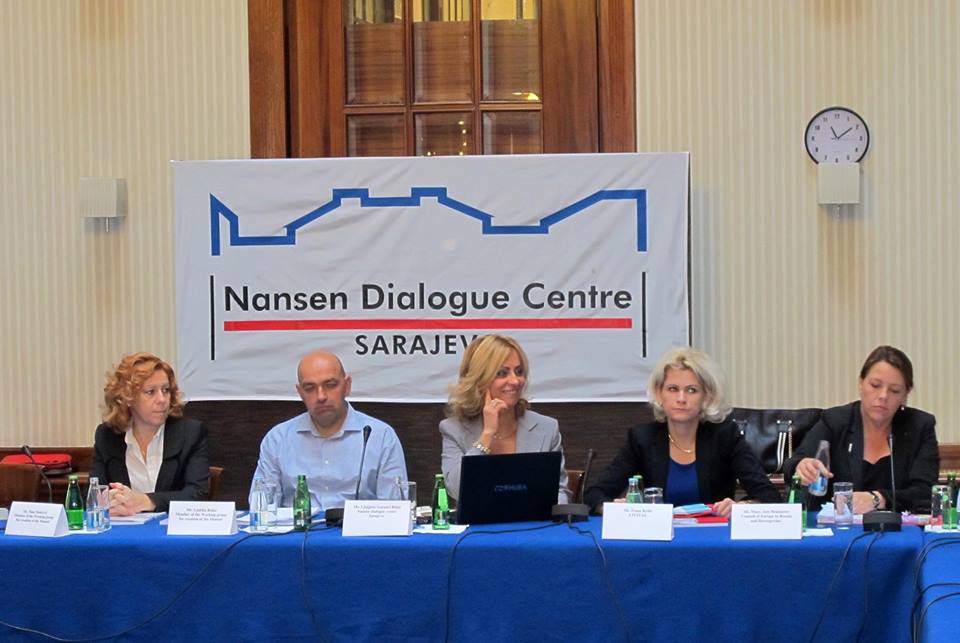 By Medina Malagić – Sarajevo
This morning in Hotel Europe in Sarajevo, the Nansen Dialogue Center Sarajevo launched the presentation of a manual called 'Get to know the Constitution and what it means to be you'.
According to the Nansen Dialogue Center, this is a manual that will serve as a guide for the teaching staff in high schools in B&H, with themes that revolve around the Constitution and democracy, and the Center listed the more specific topics of 'historical development of constitutionality, human rights and mechanisms for its protection, jurisdictions and level of governance in B&H, case analyses from practice of the Constitutional Court of B&H and court practices of the European Court for Human Rights in Strasbourg'.
The presentation was followed by a discussion on 'Challenges of development of critical thinking among students'.
Speakers at today's presentation were Head of Council of Europe Office in B&H Mary Ann Hennessey, Member of the Steering Board of Nansen Center for Peace and Dialogue Norway Ms. Ingrid Vik and former Minister of Education, Science and Youth of Canton Sarajevo Damir Marjanović.
'Get to know the Constitution and what it means to you' is a project that was launched by the Center, which has been divided into two phases. The manual completes the first phase of the project and involved the tenacious participation of experts in law and education. The second phase of the project began in September, and high schools all over B&H are involved.
Third and fourth year high school students will use the manual as part of extracurricular activities, where discussions on the B&H Constitution will take place.
It is well-known that the educational system in B&H is a convoluted mess. Not only is the complex administrative structure to blame, but the stark divisions regarding curricula and lack of opportunities for mobility for many students in this country is an impediment to furthering their learning. Cooperation between various non-domestic organizations in B&H are conducting such projects in order to mobilize students and provide them with the space that they need and seek to advance critical thinking skills, especially in non-politicized settings.
There will also be presentations on the manual in Mostar, Banja Luka and Brčko.